… this is ridiculous.
I can't get aggressive on my trades if the Vix doesn't pick up in activity.  Normally, a triple digit down day would translate into a 5-10% move on the Vix.  Right now, people just don't want to sell their stocks, no matter what the news!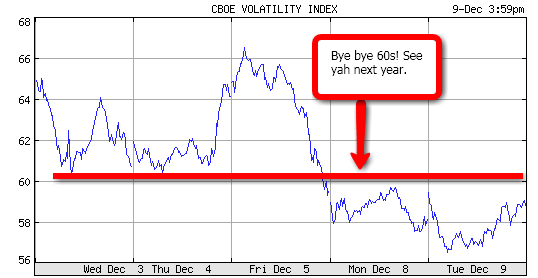 Maybe if volume is low enough we can get the Vix back to the 60s.  I still have next week as a possible place to see that.  But right now, I'm bearish on the Vix, and therefore, "bullish" on this market.  As long as the Vix melts down, it will be tough for the bears.  Bears prefer it quick and dirty.  Will I buy into this "bullish market"?  Hardly…
My advice for now is to keep all positions at about 1/3 to what you normally play, either swing or daytrade.  If you daytrade, then start off 1/3, and keep adding increments… bailout at breakeven.  You see, when you daytrade, you want the broader overall market in your favor.  Take for example yeterday's bullish move in energy… it's gains were capped because the overall market was down.  That really sucked.  Anyway, at least that gives us a hint that if the market goes up the next day, then I would at least expect energy to move up (hence, my swing long in GMXR).  Above all… if there's nothing there, then do nothing!  Or atleast just build a list of stock behaviors that standout.
Right now, ignore the Vix, and continue to use price/volume indicators to specific sectors then to specific stocks.  For example, yesterday's plays were in solars and shippers.  Both had big volume, and you could have selected almost any active stock in the sector.  Solars were a short yesterday, and shippers were fadable on market weakness.
Anyway, I'm not saying the Vix can't get back above 60, but it probably will have a hard time getting there.  Right now, the Vix is offering me nothing!  So, out it goes.  Maybe closer to quarterly expirations.  Believe me… I'm hoping I'm wrong and that the Vix can get back up there asap, but it's okay, I can wait. 
Aloha to my new Twitteraddictatious new friends!  Roll call… …. wazzup SorenMacbeth, founder of StockTwits and soon father to be! Welcom CJBull, to iBankMermaids.   Shout out to johnsontrading for T2108.  See yall on the streets! Kicking it with kung fu with TradingPanda. Buenos dias gawed!
If you enjoy the content at iBankCoin, please follow us on Twitter