Facebook has been offline for more than 3 hours. It appears their entire site has been destroyed and as such — speculators believe the stock is now worth zero. Energy heavy faggots boasted their gains today amidst the carnage. If you were long the inflation trade, you escaped the pain.
The sell off in tech was palpable and like all previous sell offs before — this too feels bad. It feels like it wants to go to zero and I had to check myself all day from selling short by focusing in on the people I hate boasting of their shorts and how we were bound to collapse the open.
Look at how fucked Facebook is now.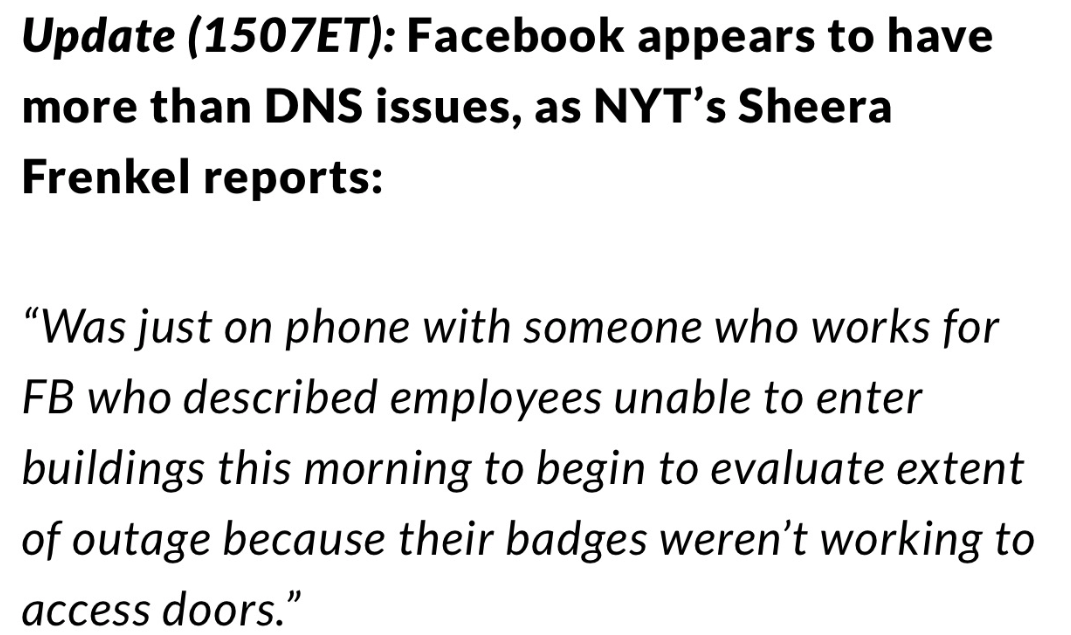 Although long, I could not get myself to get long tech or heavily into the Nasdaq. I am long CPB, DUK, ETR and other old man stocks with levered exposure to the Dow and a risky gambit in biotech via LABU. I am still heavy cash and I can still drawdown 2% or so tomorrow is we collapse the open. We might in fact gap lower and recover. Or, we might gap up and keep running. Or we can gap up and then collapse.
This is not an easy tape to gamble. People chasing energy here might get 100% fucked tomorrow. The path of maximum pain is where we're going and the easy trade seems to be selling short into the bell.
Fuck it I am going the opposite — but will take heed of risk tomorrow morning.
If you enjoy the content at iBankCoin, please follow us on Twitter