This racks me with idle thoughts at night, the epheremal notions persists in the back of my mind that all of this excess is not a byproduct of wealth and industry but grift and malfeasance. The new $3.5 trillion BIDEN BUDGET is more evidence of this — the absurd coming true and normalized to condition a new generation of ignorants to accept corruption.
When looking at money printing I am reminded of Einstein's law of relativity. Whether Einstein was right or not, the idea of being on a train moving fast and an adjacent train traveling just as fast equating to no real movement is important to remember when looking at money printing. The whole world is doing it, not just us. So how could there be a bubble when the rubber balloon is also getting bigger at the same time? It defies physics, granted, and it's magical thinking to assume we can get away with it. But show me where the pressure is being applied?
Below is the LSTA index for leveraged loans — aka the shittiest loans on the planet. If the market was really worried about credit, you'd see these bonds hit first.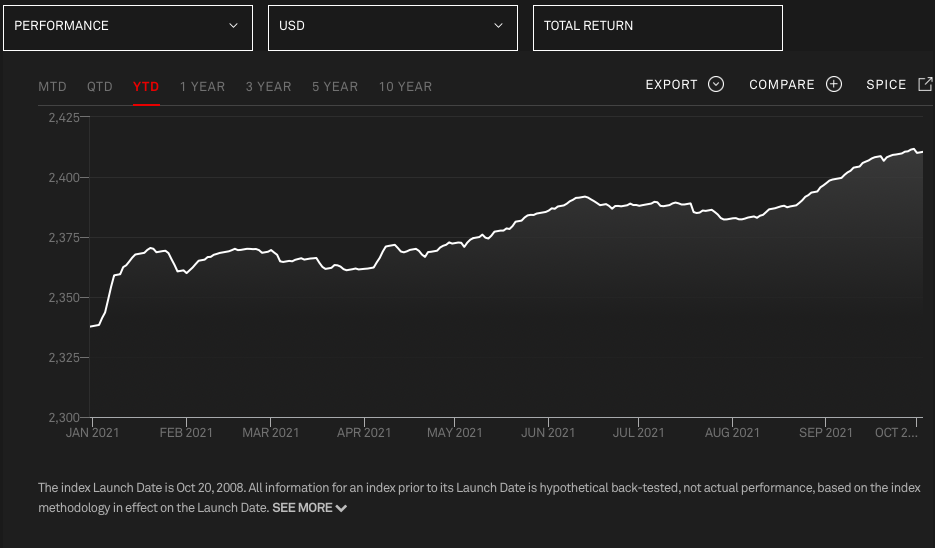 High yield is having a grande old time and no one is scared and nothing is on the horizon, aside from +30% YOY real estate gains and crippled supply chain that threatens to freeze all of Europe this winter. The idea that COVID is over because we're seeing less COVID cases, but still +200% YOY, is also naive — ahead of winter. There are reasons to be terminally worried about stocks, such as the idea that we're +40% since Biden got elected. One might muse at that and feel it's wrong and shouldn't be and care to revoke said gains, all the way to zero.
More magical thinking.
For now, I'll leave the longer term forecasting to those who get paid to do it. We can have a dreadful market without calamity, just a drill down into dust due to confidence destruction. We are close to that now. We are one or two big down days away from manifesting a rout in stocks and no one will know why it happened. Confidence is everything and without it the house of cards can collapse on its own, without a reason and without warning. These are the hardest events to predict — because without a fundamental concern people are inclined to hold and add to stocks when they drop. Most people view them as long term instruments and are programmed for reward when holding long enough. Last year at the COVID lows people were down 60% in their portfolios and it came all the way back and much much more.
That is not supposed to happen but it did and we pretend it's ok because "clown world."
If you enjoy the content at iBankCoin, please follow us on Twitter