During the financial crisis Volkswagen manifested a short squeeze for the ages and became the world's most valuable company, if only for a day.
Source: FT
On Monday morning Volkswagen's ordinary shares opened at €348, up 66 per cent from Friday's close, and kept rising. The shares closed at €517: a 149 per cent gain in the space of one day's trading.

For those who had not squeezed out the fire escape, the worst was yet to come.

The first tick on Tuesday was a touch lower — €497 — before the shares took off again, rocketing to an intraday high of €999, before easing off to €940 at close. For those who sold a share short on the Friday, the losses were brutal. If they had borrowed €100m of stock, it would have cost them €450m to buy it back. (This calculation has been updated since publication to clarify the cost of buying back the stock.)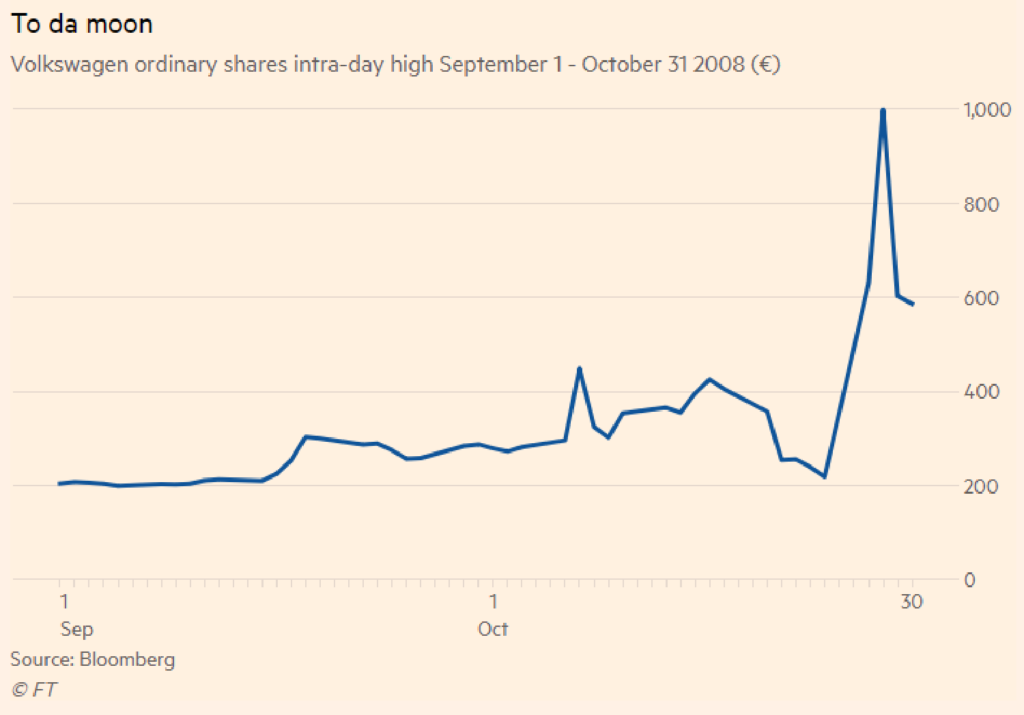 Similarly, TSLA has catapulted itself over the past 6 months, and hastened the pace most recently, to become the 2nd most valuable car company in the world — currently valued at $160b. Toyota is #1 at $196b. At this pace, with TSLA +13.5% in the pre-market, they'll probably surpass TM sometime this week.
As for the overall market, looks like +400 by the open — thanks to PBOC liquidity injections. China was up 3% last night, so the machines want to get back every cent that was lost on Friday, and more.
In a bid to cushion the economic blow of the epidemic, China injected 1.7 trillion yuan ($242.74 billion) via reverse repos on Monday and Tuesday, helping Chinese stocks reverse some losses and lifting the world equity index.

The monetary intervention boosted investor sentiment even as several economists cut their forecasts for 2020 global growth as the death toll from the outbreak mounts and business operations in China remain suspended.
Bottom line: Nothing can stop it.
If you enjoy the content at iBankCoin, please follow us on Twitter