Please play song while reading. Thanks.
These past 4 months have been glorious, as I've fashioned myself to be a high techFAG, cavorting amongst those in Silicon Valley, chuckling in high pitched tones over $50 lattes and handcrafted chocolates. But as the leaves turn brown, so does my heart turn black, pining for the dark and ominous days of when I was a coal man — stuck in a non-descript mine with nothing but a pick ax and a canteen of water to survive. I'd flail and punish the cave with my hard and angry swings, inhaling the gravy of the mountains deep into my lungs — tarring them with the butter of God.
Time has come, I think — to once again thrust myself into the cave, spelunking down into where the bats and the dragons reside, harkening back to an era of when America was young and beautiful and also disgusting and very dumb. But there was a romanticism in all of that ignorance, one born inside the coal mine — procuring the rock of Satan for the steamships of Athena and the power plants of Poseidon.
I'll have you know that I am long CLF, in a small degree, but long nevertheless. I will also have you know that the stock has been trending wayward and up — away from any semblance of weakness. Under the Great Trump, America is mining again — men diving into small carts and being roller coastered into an underworld of wonder, danger, and also hard work and toil. Swinging the ax and picking at the cave for the combustible rocks that blacken the earth is a noble and just cause. If we do it enough, perhaps all of our problems will wash away, along with life itself.
Have a gander at the seasonality of CLF — implying now is a retarded time to barrel into the shares. I do so, nonetheless.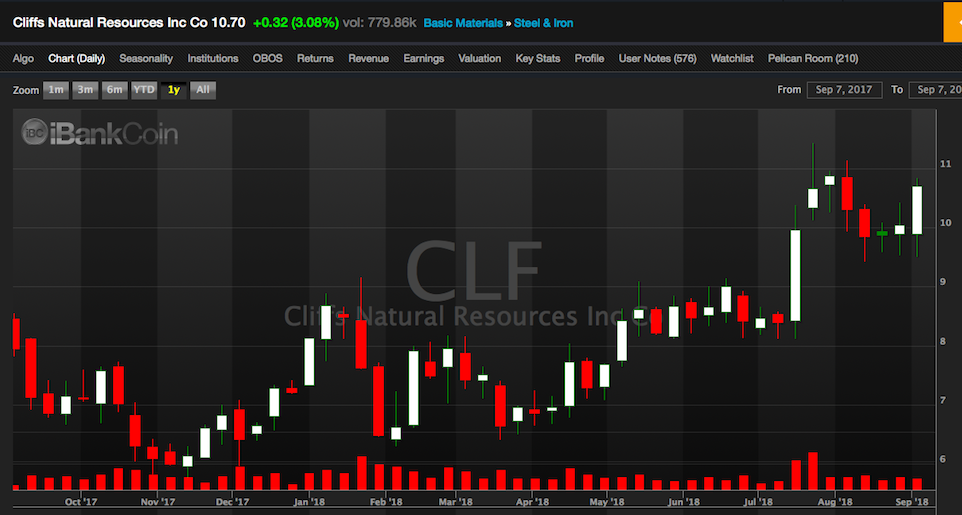 To some of you East and West coasters, working inside the bowels of a coal mine sounds foreign, mainly because you're all lazy sloths, accustomed to having your cars powered by electricity and your coffee heated by solar panels affixed to your ovens. "The Fly" is a man of the people, sensitive to the plights of those inside the shitholes of America — far and distant places forgotten by the nation — because the memory of them was too injurious for most to reconcile with. While the people of Pennsylvania, West Virginia and Ohio might be laughed upon for their nonsensical existence, I support them and their efforts to reopen all of America's coal mines and bring forth a new era of Victorian steel mills and steamship operators and cast iron works to be outfitted on new Second Empire Queen Ann homes for the rich and row flats for the working class — the honest class of beer swilling game goers.
If you enjoy the content at iBankCoin, please follow us on Twitter