I'm trying to wrap my head around the idea that rates 'should' be at 5%, according to our most eminent banker Jamie Dimon. The question, as a people living in a country highly indebted, why the fuck would we want that? Moreover, why in the world would we permit our own central bank to increase to cost to borrow and hurt our balance sheet?
"I think rates should be 4 percent today," Dimon said. "You better be prepared to deal with rates 5 percent or higher — it's a higher probability than most people think."
I realize these questions are mostly rhetorical, since we all know the Fed is a bastard organization. Nonetheless, it must be said from time to time. There is no inflation. Our currency is not on the precipice of collapse. To hike rates simply means to hurt people who borrowed money at the margins to buy a house they could hardly afford; moreover, it would increase the amount of money it takes to service our $20 trillion debt load.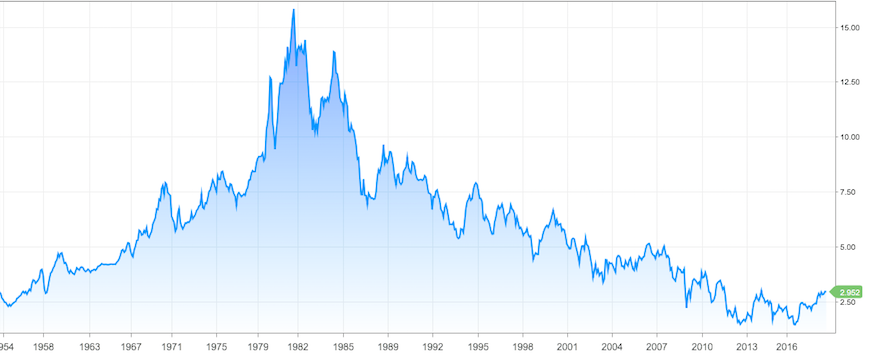 On the other hand, and this is a theory that some people share, higher rates begets inflation — just like lower rates causes deflation. It's a theory worth examining closer — especially since we saw the deleterious effect of zirp here and negative rates in Europe. It seemed to heighten our difficulties. Also, since rates have been going up — things have been much better, especially for stocks.
In other words, maybe just maybe, Jamie Dimon isn't insane and maybe hiking the 10yr to 5% will cause a inflation to rise strongly and the stock market to speed up to upside, creating a cascade wealth effect that will last for decades.
Or he's insane.
Your call.
If you enjoy the content at iBankCoin, please follow us on Twitter