I don't know if the Sino-American trade war has concluded, but markets don't give a shit. If you've been fading stocks due to the advent of tariffs, you're getting graped tonight.
The NIKKEI is higher by 2.7%, China +1% — Nasdaq futures are +30.
I'd bet both my testicles that Nasdaq futures will be higher by at least 50 by tomorrow morning.
The only notable news this evening is BREXIT drama. Apparently, Theresa May isn't too keen on BREXIT. Big surprise.
In other news, Bordeaux prices are under pressure. Winefags behold and BTFD.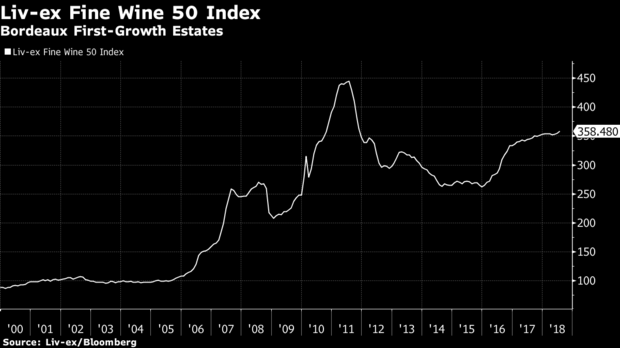 High prices for Bordeaux 2017 compared with similar prior vintages, and restrained demand from buyers focusing on a few top labels, is leading to wine stocks backing up at merchants in the French port and a squeeze on margins through the supply chain, according to London-based online wine market Liv-ex.

Average 2017 prices for wines in the Liv-ex Bordeaux 500 Fine Wine Index, comprising the last 10 physically-available vintages from 50 top wine estates, were down just 11.5 percent from the higher quality 2016 vintage. The average 2017 price in the index was 124 euros ($146) a bottle in bond, only 2 euros cheaper than the more critically-acclaimed 2015 vintage and almost 20 percent more than Liv-ex's suggested fair-value level. The 2017 season was marked in some regions by the worst spring frosts in a quarter century.
If you enjoy the content at iBankCoin, please follow us on Twitter