BSV is ripping higher breaking $100 again and approaching previous local highs. If $120 is taken out next target is $160. This is in a crypto market that is being slaughtered. As I've been posting for a few weeks it's BSV or nothing. I expect the entire crypto market cap to be rolled up into BSV. If not, Crypto is dead.
We have begun the endgame now.
Here's some calls I made on Twitter and other random highlights:
There's been a battle between BSV and BAB both of which were born during the hashwar over BCH. Here's the "Mission Accomplished" BAB moment where they declared victory November 15. Since then BSV has passed BAB in price.
Andreas Brekken discussing the steps taken by ABC and how they won the hash war in 45 minutes.

Too early to tell but it looks like ABC is being punished for this move right now. https://t.co/y1zz4IiRy5

— Coinspeak (@coinspeak_io) December 6, 2018
To add insult to injury, there is now a lawsuit announced to sue several companies and individuals for the actions described in this video. I don't think the lawsuit will go very far but it's definitely a pain for those named.
.65 BSVBSB is breached. It's not ideal circumstances as one is falling faster than another but I believe parity will be reached soon. pic.twitter.com/wJ1qyPLWi6

— Coinspeak (@coinspeak_io) December 6, 2018
Update: TRUE. BSV broke out at .65 and is now > BAB. 70% gain in < 2 days once .65 was broken. Chart below: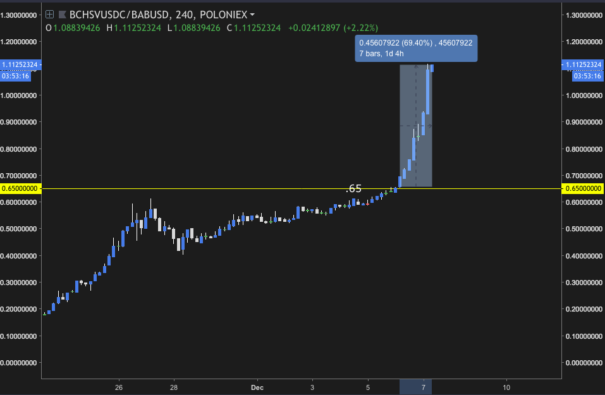 Thread below comparing dot com to crypto. I have survived both. This capitulation is a recalibration. This is when you can make real money.
When dot coms crashed smart people looked at what there was to learn from the mania and reallocated to future looking companies.

Those who held onto "leaders" or failed to recalibrate watched as they never regained their former glory while Internet 2.0 rose from the ashes.

— Coinspeak (@coinspeak_io) December 4, 2018
Excellent podcast where Daniel Krawisz corrects the hosts many times as to how Bitcoin works.
Below is a video by Hayden Otto who runs a site called Coinspice. He's been pro BAB from the start. If you followed his advice 14 days ago you are down over 83%. In an earlier blog post on iBC I recommended doing the opposite. I hope you listened to me and not Hayden.
If you followed the instructions to "dump your SV" because of the "SV cultists" you are down 72% in 14 days.

Maybe consider investing based on personalities is not the best "CryptoStratz". https://t.co/WgegTFBWm4

— Coinspeak (@coinspeak_io) December 6, 2018
Throwback to CNBC covering Bitcoin breaking $100 in 2013. This is Bitcoin's "what is internet" moment. Bitcoin is breaking above $100 again under BSV. This is a gift.
Five years later Bitcoin crosses $100 again. This is your chance.https://t.co/bDkorn4P8e

— Coinspeak (@coinspeak_io) December 2, 2018
Just for fun, here's a call on SPY.
Zooming out a bit that 50% retrace takes SPY to the highs before the 2009 crisis. All those easy money gains erased. 50% is not a difficult call. The big question is will it stop there? pic.twitter.com/Q0iEahdf7z

— Coinspeak (@coinspeak_io) December 6, 2018
How do I survive these forks? How does it work that BSV is at $100 and I'm happy about it. When BCH split from BTC I sold my BTC for BCH at 10:1 ratio. When BSV and BCH split I sold BAB for BSV at 4:1 ratio. So while the price is at $100 I have 40x as many coins. If we have a bull run in BSV …well, you get the idea.
BSV investing is like the quote below. One by one men will recover their senses.
"Men, it has been well said, think in herds; it will be seen that they go mad in herds, while they only recover their senses slowly, and one by one."
-Extraordinary Popular Delusions and the Madness of Crowds

— Coinspeak (@coinspeak_io) December 7, 2018
If you enjoy the content at iBankCoin, please follow us on Twitter