Barron's was out with a bullish piece on Amgen this weekend, noting the stock could be worth $120 (it is currently trading at $97.42)
The stock has clearly been a leading large cap biotechnology stock for quarters on end. Recently, though, Amgen has sold off more deeply than the rest of the tape.
After an initial bounce off its 150-day moving average, the presumption is that the stock could easily push higher yet in light of this piece, otherwise known as the "Barron's Bounce."
The issue, of course, is how or whether to even play it. While longer-term timeframes still indicate a powerful uptrend, the move higher did indeed become extended and a deeper pullback cannot yet be ruled out. Furthermore, the volume pattern since late-May continues to point to heavier selling than buying. And the 50-day moving average is now declining, favoring a continued correction until bulls soundly recapture the initiative.
Specifically, if you are looking to short the presumed Barron's Bounce, you want to see prior $103 support (horizontal light blue line on the daily chart, below) now turn into resistance. If Amgen can sport a weekly close back above that level, there may very well be something more to this than a mere Barron's Bounce.
Also note that failure to rally in this situation is likely a serious omen of a notable change in character in the stock, something beyond a garden-variety pullback within an uptrend.
In and of itself, a Barron's Bounce is not particularly noteworthy. What is interesting about this setup with Amgen is how much information we will be able to glean from how the stock reacts this week.
____________________________________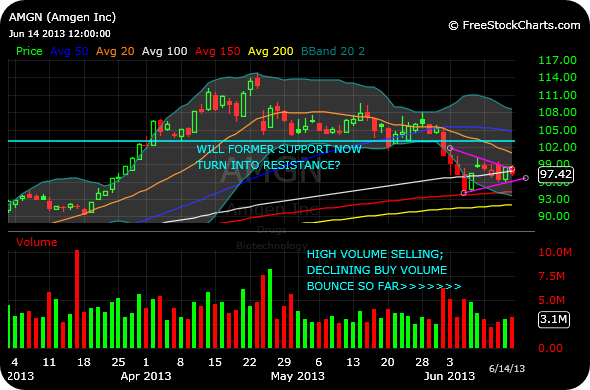 If you enjoy the content at iBankCoin, please follow us on Twitter