Over the course of any strong and lasting bull run, overhead price resistance will start to seem like the Loch Ness Monster–There is talk and rumors of its existence, but seeing it with your own eyes is quite another story.
As the market has taken out one significant price level after the next, the only major index not at all-time highs is the Nasdaq Composite, the unequivocal leader of the last secular bull market from 1982-2000. If you are in the camp that history rhymes, if not repeats, then the Nasdaq probably should not take out those all-time highs of 5,132 until sometime next decade. However, this time it may indeed be different, what with all of the macro and microeconomic arguments being scribbled about as to why that is the case.
Regardless of your stance on that issue, the monthly chart of the Nasdaq, below, reveals that once price left 2,900 in the dust late-last year, it has been a drift back up to the "Little Bighorn" 3,400-3,450 range. Little Bighorn, meaning the bulls' last stand as the dot-com bubble quickly morphed into the dot-com crash in 2000.
Specifically, the summer of 2000 may as well have been Last Stand Hill for the George Custer-esque tech bulls, as they sought to aggressively buy the dip after the March 2000 touch-and-reverse off those 5,132 highs. As you can see, those who bought and held that dip have only just now been made whole, some thirteen years later.
And so now the big test is upon us as the market returns to this sacred ground, where technology bulls at the turn of the century saw their legendary war hero status crumble into brazen gambling and steep losses. There has been a nice and easy void back up to these levels this year, a consequence of the sharp run-up and swift crash leaving little overhead supply until around 3,400.
But now we are back on hallowed ground.
_______________________________________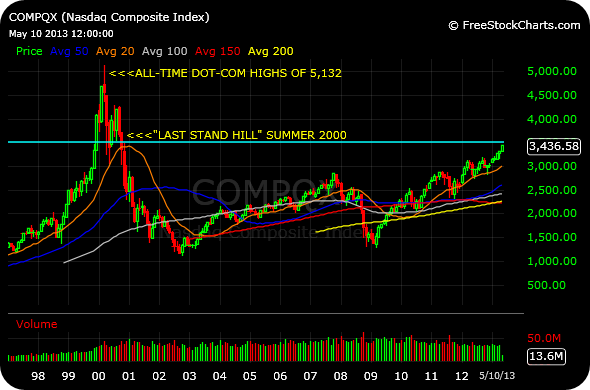 If you enjoy the content at iBankCoin, please follow us on Twitter