I'd like to know what types of traders/investors are out there. You may pick multiple choices if needed:
I nailed the doji day. For some reason, they are the most predictable for me. You can go through my twitter or whatever and see that I called doji days before noon on many, many days. As a swing trader, doji are the most important days for me, despite the fact that nothing really happens on these days. Depending on other factors as well, doji are the most perfect set up for swing traders. It is absolutely the worst day for daytraders to trade. There is absolutely no point in going in-and-out unless you want to waste your time. The key is determining if the day will be a doji well before the day is half way over. I'll try to write something up about that in near future.
Also, I want to point that there are some divergences among the iBC bloggers. As you know, Fly, Alpha, and RC are hardcore long and Danny is wanting to short the shit out of the market. I am long but have a short hedge so I'm not as hardcore, and Gio just loves to surf with the VIX all day. According to my poll yesterday, 157 people gave their opinions on how long this rally would last. In this market, if you are one day early or one day late, then it'll be tough for the average trader to sit through the pain. As long as you back up your reasons for any trade, you should stand by your decision unless something dramatically changes.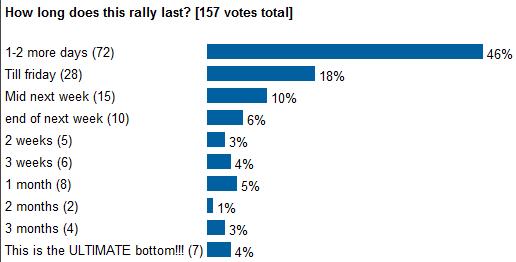 Anyway, the market is boxed in. You'll also notice that I use the term "boxed in" quite a bit. It is a term that I use to describe a stock that is either entering or is in the middle of a major congestion zone filled with multiple support/resistance levels, channels, and or moving averages, all of which will limit the movement and progress of the market or stock. A good practice is to take out a chart of whatever timeframe you are using, and extend lines as far right as you can to visualize the next day's support and resistance areas. This way, you'll never be caught off guard whenever a bounce or pullback occurs. Give it a try sometime.
For tomorrow morning, I will depend on my trusty lines to ascertain direction. After all, a doji suggests indecision and is usually 50/50, so the support and resistance levels become especially important for today's trading. I will keep an eye on the COMP because that is actually a spinning top, and there's more weight towards a reversal. Also, several financials are on the "potential reversal" list, and they are WFC, BAC, C, PNC, etc. I'll just have to see what happens pre-market to make the call.
If you enjoy the content at iBankCoin, please follow us on Twitter