Overbought as suspected. The 920 breakdown was my sell point for my long ETFs and that initial gap down really did it this morning. Luckily, I did manage to pick up some FAZ on the 2nd breakdown. Then, 3:00PM and beyond looked like it was forming a double bottom, so I got some FAS to hedge it. In the end, I made enough to buy a damn Chick-fil-A sandwich. Not bad considering the fact that today was stale, lifeless, dull, ho hum…whatever you want to call it.
There are hardly any spiker plays remaining. They usually come all at once in a 1-3 day blitz and then they either consolidate or turn into possible short candidates like FTK, APL, IVN, or NCX. If you noticed, all the stocks that jumped 50-100% were all cheap $1-5 shit stocks. It's kinda scary that they are the biggest gainers in the market. The strength of a rally is determined by it's leaders. Stuff like ACAS, FIG, MNI, ARTC, APL, MEA, AER, XTEX, DFT, GLS, KWK, AHD, GFIG, KFN, ARM, IO, and VCI are NOT leaders.
On another note, unbeknowst to me, I was following over 1,600 twitterers that included strippers, pornstars , self-proclaimed psychics, Bernie Madoff himself, "hotliquidsex" (+ a dozen other IDs starting with "sex"), "the_boob_nazi", and others who obviously didn"t create a healthy trading environment. Therefore, I cleaned out my Twitter account so if I accidentally "unfollowed" you, kindly let me know.
I ran my fibs and noticed that we are now at the 50% retracement from the rally's peak to trough (so far). We could have a volatile indecision day tomorrow due to the depth of the correction as well as our proximity to short-term oversold levels. 920 has once again become overhead resistance, the same level that took nearly a month for a breakout to occur. This level was penetrated without any trouble right at the open.
Even though a low volume sell-off is not as bearish as one on high volume, we can see instances from October-November where the market rapidly sold off on low volume anyway, regardless of what traders thought. In addition, we are no where near full market participation yet. Not even close. Use volume to confirm price action, not the other way around.
Also, look at the 4-month chart, we are still in a wedge! Just as we thought we left the wedge, we're actually in an even larger one, so be aware of it. Because of the continuation and duration of the wedge, I have to believe that we are going to breakdown sometime soon. Look at the short-term cup forming since December 15. It is attempting to create a handle. Watch that too.
Sector analysis indicates that the financial sector is, by far, the weakest. The materials come next. So far, everything else is maintaining their uptrends. As for breadth, there were 0 (NYSE) and 7 (NASDAQ) new highs and 7 (NYSE) and 1 (NASDAQ) new lows. This broke the positive streak we've had for four days (look at the $NYHL & $NAHL). We were doing really well too.
Tomorrow, we have the usual jobless claims (8:30AM – Consensus: 540K), chain store sales, and the Monster Employment index. Check out all the states with system crashes/delays due to overwhelming claims: NE, NC, NY, MI, VT, FL, HI, OH, TN, KY. There are more, but I don't want to frighten you. We have some major problems coming our way…
As for earnings we have PSMT, MTRX, FCSX, and RPM pre-market. We have SCHN during market hours and APOL, HWAY, LWSN, and RBN after-hours. There are a few microcaps mixed in, but they're still nice to know.
Lastly, I have to give credit to Danny and Woody for staying short, despite the relentless uptrend that would have induced any weak short seller to jump in front of a train. Ya'll got some brass balls. Congrats!
SPX 1-day
SPX 5-day
SPX 10-day
SPX 40-day
SPX 4-month
UPDATE: 2002/2003 vs. 2008/2009 (a close-up of Danny's comparison)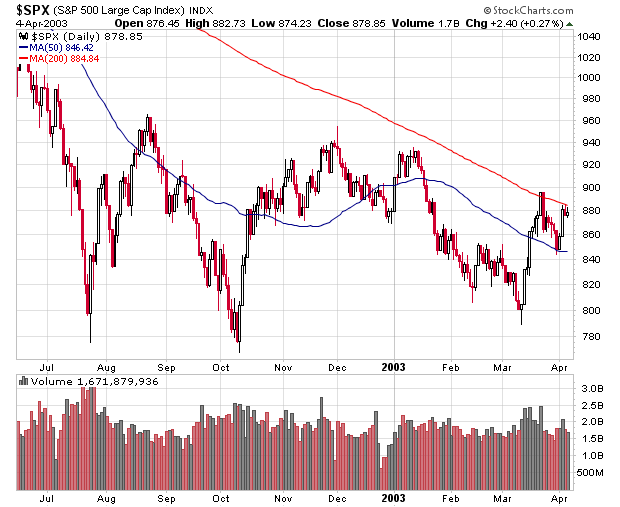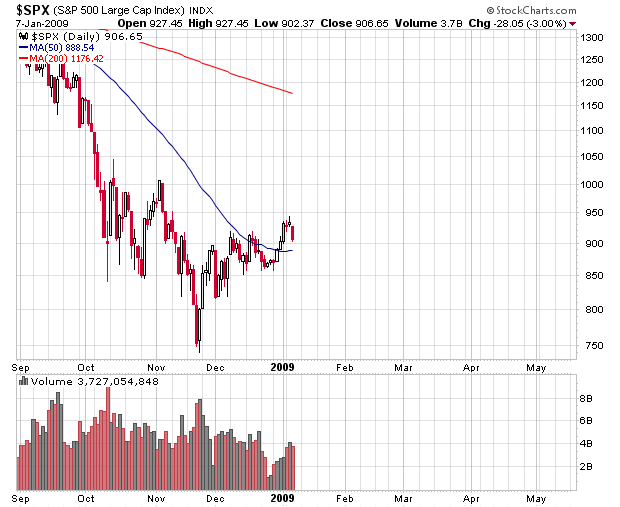 If you enjoy the content at iBankCoin, please follow us on Twitter