An interesting article from Bloomberg on the distressed housing market in flooded-out Texas right now.
Bloomberg Businessweek | 10.13.2017
Bryan Schild drives through the byways of Houston looking for what could be the investment opportunity of a lifetime: homes selling for as little as 40¢ on the dollar. "We Pay Cash For Flooded Homes $$$$$$$$ Don't fix it, sell it. Quick close," read the signs piled in the back seat of his Ford pickup.
Schild stops by a ranch-style house where 74-year-old Paul Matlock lives with his wife, disabled from multiple sclerosis. Matlock is desperate to leave and is considering Schild's offer of $120,000—half the home's value three weeks earlier. A half-dozen other investors have made offers, one as low as $55,000. "The whole thing makes me feel like there's a bunch of vultures sitting on my back fence," Matlock says. "They're waiting for the dead body to fall over."
 It's axiomatic on Wall Street that the time to buy is when fear overtakes greed—when blood (or, in this case, water) is in the streets. Now some are eyeing the billions of dollars in 
hurricane-ravaged property
 in Texas and Florida and deciding it may be the time to take out their checkbooks. Investors such as Schild figure they can buy low, either fix up and flip the houses or rent them out for several years, and unload them later, doubling their money or more.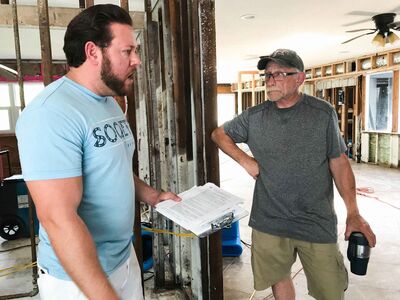 Those kinds of bets have often paid off. Buyers who snapped up co-ops and office towers when New York was near bankruptcy in the 1970s made a killing. More recently, companies including Blackstone Group LPand other marquee names bought foreclosed homes after the 2008 financial crisis and are sitting on billions in potential gains.
 The cycle begins with small-time investors such as Schild, who's bought more than 30 waterlogged houses for an average $175,000 apiece. Then Wall Street swoops in. Gary Beasley, former chief executive officer of Waypoint Homes, also sees an opportunity. He's pitching private equity firms and pension funds on the potential profit in buying flooded homes, repairing them, and renting them back to homeowners.
Bain Capital LP and billionaire Marc Benioff, co-founder of Salesforce.com Inc., are backing Beasley's two-year-old company, Roofstock Inc. It runs a website where investors can buy and sell single-family rental properties. Beasley thinks owner-occupants may be interested in selling there, too, and that flooded neighborhoods are the Next Big Thing. "It's much like the housing crisis, when the institutional guys came in to buy homes nobody wanted," he says. Like other investors, Beasley and Schild view themselves as helping homeowners to move on and Houston to rebuild.
Others take a less rosy view. "What worries me is people making pretty dramatic decisions without the education to figure out what the alternatives are and without looking at the situation rationally," says Andrea Heuson, a finance professor at the University of Miami who specializes in mortgages. Some of those considering Beasley's strategy don't want to be named for fear of looking like catastrophe profiteers, Beasley says.
Many homeowners would be forgiven for panicking. During hurricanes Harvey and Irma, wind and water damaged almost 1.8 million homes, causing uninsured flood losses of as much as $57 billion, according to CoreLogic Inc., a real estate data firm. Homeowners without federal flood insurance are most likely to be desperate. Those with policies don't yet know how much they'll get for their losses, which is key to deciding whether it makes sense to sell.
Investors don't want to pay too much because they're taking many risks. The storms are driving up not only financing costs but also expenses for labor and materials. Other challenges include mold, local efforts to restrict rebuilding, and rising costs for flood insurance, says Jesse Keenan, who leads the Harvard Graduate School of Design's real estate program.
Back in Houston, Schild joins more than 1,100 real estate investors drinking beer, eating catfish, and swapping investment tales at the Redneck Country Club, a music hall. A giant bar is decorated with pictures of guns, mounted deer heads, and a chandelier made of Lone Star beer bottles.
The crowd is assembling for a monthly meeting convened by Eddie Gant, a real estate investor who specializes in "hard money lending"—offering short-term, high-interest-rate loans to house flippers and landlords. The topic is flooded houses. Standing in front of a giant American flag, Gant, 55, his head shaved and gleaming, wears a neon green shirt and black caiman-skin cowboy boots. "You wanna make some money?" he calls out to the cheering audience. "Be careful—you better buy low."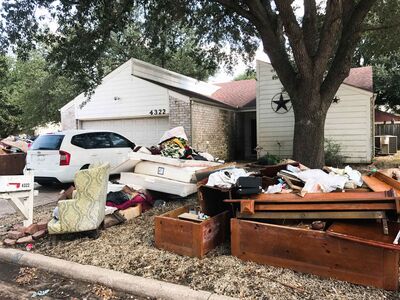 One of Schild's prospects is Joseph Hernandez, a disabled U.S. Army veteran married to a housekeeper. The couple are living in a hotel and saving money by eating only two meals a day. Schild has made them a painful offer. If they walk away from their two-bedroom house, worth $127,000 before Hurricane Harvey, Schild will pick up the mortgage payments, paying nothing else. Although he says he sympathizes with the Hernandezes' plight, he thinks the offer is fair because he figures the home is now worth less than its $65,000 mortgage.
Hernandez is in a bind. He didn't buy flood insurance because his house wasn't in a high-risk area. He can't afford to rebuild, and he's been told he's eligible for only $23,000 in federal assistance. If he turns over the deed, he's looking at losing the entire $60,000 in equity he had before the flood. "It's blurry, what's coming," he says. "We'll probably have to sell to an investor, and that's not good. We were forced out."
Hernandez isn't ready to take Schild's deal. But Matlock, who rescued his disabled wife from chest-high water, is tempted by the investor's $120,000 offer. Their home, now stripped to the beams, has flooded twice in two years. Schild says Matlock should be able to recover much of his loss on the house's value through federal flood insurance. (In past storms, homeowners have complained the program lowballed them.) Before he leaves, he asks Matlock to spread the word. "Anybody looking to sell, tell them to call me," he says. "I'll give them a bid."
BOTTOM LINE – Bargain-hunting investors are offering flooded homeowners a way out, but some owners may not be in a position to strike a good deal.
If you enjoy the content at iBankCoin, please follow us on Twitter