By buying the breakout of a double-top (Mar 2012 and Mar 2013) of $CERS.
Take a look at the $CERS weekly chart below: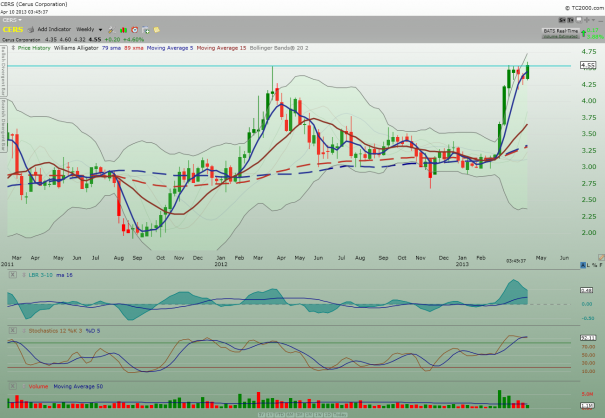 I had traded and made money on $CERS years ago and recently missed the run from low $3 to current price.  Interesting thing was that when it was trading at low $3, my mind was saying "Hey, you better get ready for this one!".  But I ignored that inner voice by forgetting to follow up with it.  But now that it was trading at critical breakout point, I cannot ignore it any longer.
Below is the Yahoo-Finance Profile description of the company if you are interested:
Business Summary
Cerus Corporation, together with its subsidiary, Cerus Europe B.V., operates as a biomedical products company that focuses on developing and commercializing the INTERCEPT Blood System to enhance blood safety. The company's INTERCEPT Blood System is based on its proprietary technology for controlling biological replication and is designed to target and inactivate blood-borne pathogens, such as viruses, bacteria, and parasites, as well as potentially harmful white blood cells, while preserving the therapeutic properties of platelet, plasma, and red blood cell transfusion products. Its INTERCEPT Blood System for platelets is designed to inactivate blood-borne pathogens in platelets donated for transfusion; and INTERCEPT Blood System for plasma is designed to inactivate blood-borne pathogens in plasma donated for transfusion. The company is also developing INTERCEPT Blood System for red blood cells, which is designed to inactivate blood-borne pathogens in red blood cells donated for transfusion. It markets its platelet and plasma systems through its direct sales force and distributors primarily in Europe, the Commonwealth of Independent States, and the Middle East. The company has collaboration agreements with Baxter International, Inc. for the development and commercialization of the INTERCEPT Blood System. Cerus Corporation was founded in 1991 and is headquartered in Concord, California.
My 2 cents.
If you enjoy the content at iBankCoin, please follow us on Twitter