YEN:
I guess I was early with the Yen trade. This is why you should only trade falling knives with options with the idea that losing the full value of the option is your risk capital.
The trade isn't dead until the Feb monthly expiration so there's still hope, although dim as it may be.
RSH:
Radio Shack finally made a move, a nice 14% one on Friday.  I harvested (sold) 40% of my options.
I'll sell 30% more when it reaches the $3 – $3.50 area.
Finally, I'll sell out completely when it reaches the $6 area.
My stop out is the low of the previous weekly candle low, which for last week is sitting at $2.20.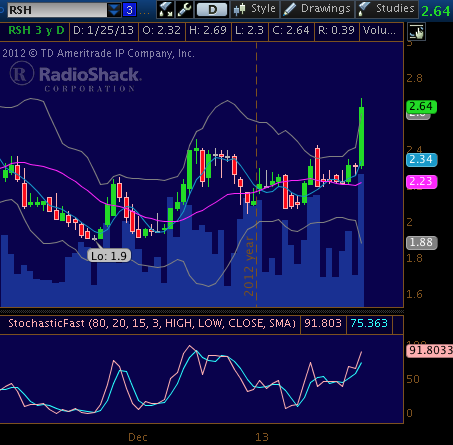 For this week BIDU looks very interesting for a last minute break out before their earnings next week. I'll be keeping a close eye on it.