With all the talk of the VIX lately, I wanted to test what would happen if one bought the SPY after a large move in the VIX.
For this strategy to signal an entry on the SPY, the VIX had to close 20% or more above its 10 day moving average. For example, today's close on the VIX was $31.70. The 10 day moving average is $24.49. To test if this is true, we perform this calculation: (24.49)*1.2 = $29.38
The entry:
If the above condition is true, then a buy of the SPY is signaled for the next open. (This type of strategy has been referred to as a moving average stretch since the close of the VIX is essentially stretched above its moving average).
The exits:
First, a simple time exit, where one buys the SPY on day 1, holds it for 7 more days, and sells it the open of the 9th day. The 8-day hold time was arrived at through optimization, although the system works with fewer or more days held.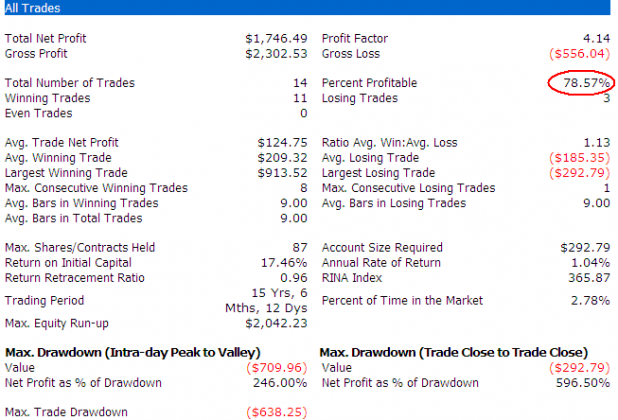 Note that the strategy doesn't earn a huge sum of money, but with 10,000 per trade, the average trade net profit is 1.2%.
Perhaps the best way to use these results is to consider this: The first trade generated was in April of 2005. Since then, when this setup has occurred, the market has typically been higher a week or so later.
Consider that this trade is difficult to make and a quick exit may be desirable for the squeamish. Adding an exit that triggers if RSI(2) > 80 lessens the average hold time by 2 days. The results are below.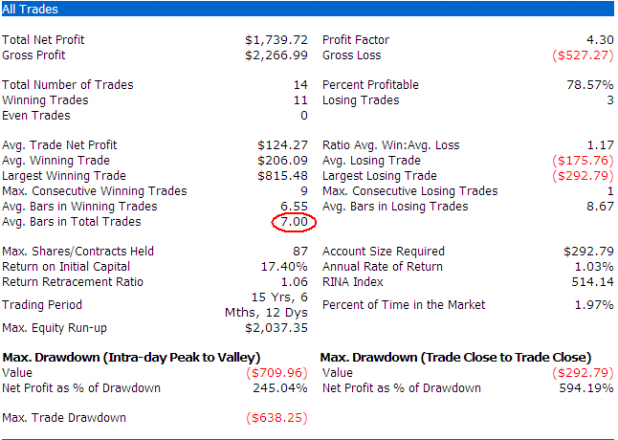 Adding the RSI(2) exit can be an effective way of keeping returns consistent while catching an earlier exit for some of the trades.
Caveats:
The first trade initiated in April of 2005. Although the report shows a 15 year trading period, the system has actually only been trading for just over 3 years. Keep that in mind when considering annual rate of return.
The number of trades is small and so this study likely does not have enough data to prove significance.
The Requisite Charts: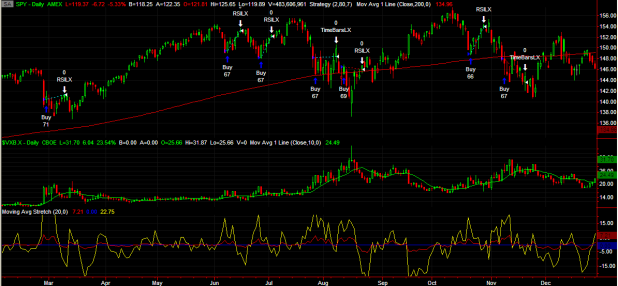 The above chart shows the [[SPY]] in the top pane, the VIX in the middle pane, and an indicator I created to show the measure of the moving average stretch. This is from 2007, which was an active time for the strategy. The VIX has the 10 day moving average charted in green.  When the yellow indicator spikes, the VIX has stretched above its moving average. A buy is then generated on the dip in the SPY.
Comments »