I was reading a post from EconomPic called Checking in On the World's Greatest Rotation Strategy. This strategy is essentially just Sell in May and Go Away, but has one buy the Long government / credit bond index rather than just sitting in cash from May – October.
Oddly enough, I had never tested this simple strategy before, and the results EconomPic posted were good enough that I had to take a look under the hood to see exactly what was making this system run.
The Rules are simple:
Long $SPY from the close of the last trading day of October through the last trading day of April.
Long VBLTX (Vanguard Long Term Bond Index Fund) from the last trading day of April to the last trading day of October.
First day of test is 6.20.1996. Last day is 3.29.2013. First day is first day of history for VBLTX.
No commissions or slippage included.
The Results: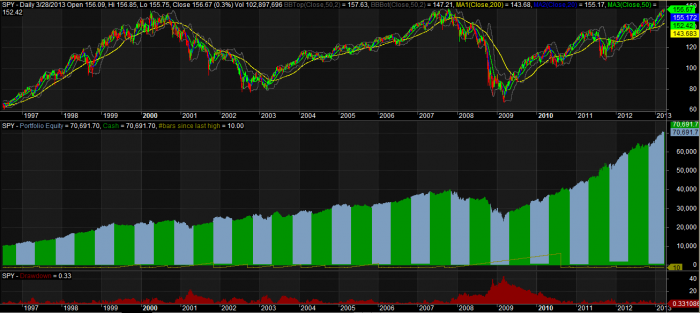 The top pane is $SPY. The middle pane is the equity curve for the strategy. The lower pane shows the drawdowns in percentage terms. The blue portions of the equity curve represents time in $SPY while the green represents time in VBLTX.
Statistics: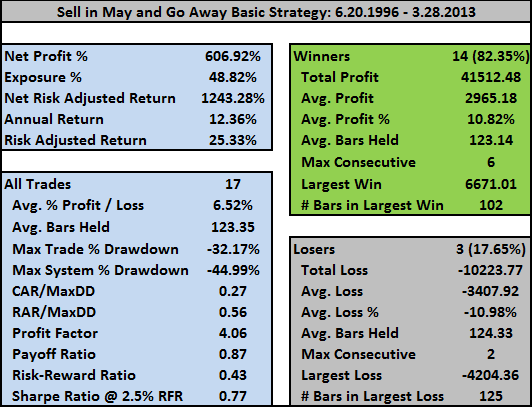 Because of the way I coded his, all the trade information pertains only to the $SPY trades. The returns from VBLTX are built into the overall returns but are not considered to be trades. Perhaps in future tests I'll break out both $SPY and $VBLTX as separate trades.
If I subtract out the added return from VBLTX, the annualized return from just holding $SPY is 8.82%.
$SPY buy and hold over the same period is 5.26% with a maximum drawdown of -56.47%. So even if you do not rotate into a vehicle to provide a return on your cash, you still beat buy and hold just by selling in May.
Historical Profit Table: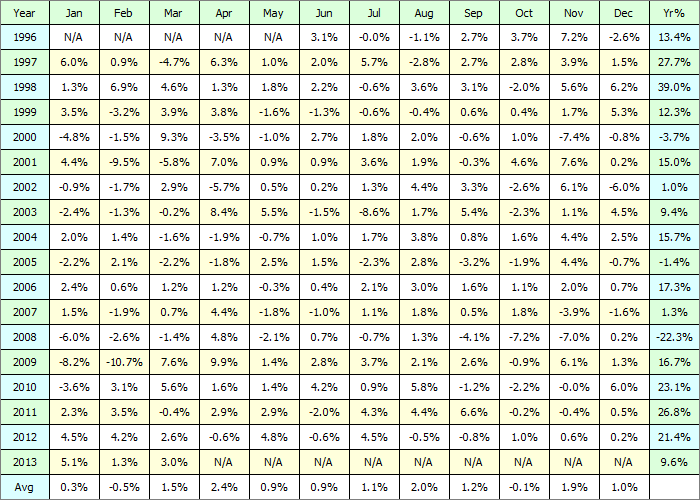 This strategy has just been killing it. I'm leery to assume it can continue killing it. Some questions:
Assuming government credit / bonds do not continue to perform as well, with what would we replace VBLTX?
Can we add additional robust timing mechanisms to improve performance of $SPY and/or VBLTX?
I'm looking forward to reading your ideas on these questions in the comments.
The next post will add in an additional timing measure for $SPY.
Comments »