I first wrote about this system on February 2, 2012, in a post entitled A Rotational System So Simple a Caveman Could Trade It.
I've run a test of in-sample performance (results below). Do check the above link to get the system rules. For those of you who are lazy and just skim this post, the system trades the Fidelity Sector Funds. My aim is to build a portfolio of ETFs and run the system over those, with an update on how this works out, in the near future.
Results since 2.2.2012:
CAGR:                                        16.03%
# of Trades :                            22
% of Winners:                       81.82%
Avg. % Profit/Loss:              2.56%
Max. System Drawdown:  8.82%
Sharpe @ 2.5% Risk Free: 1.22
Equity Curve: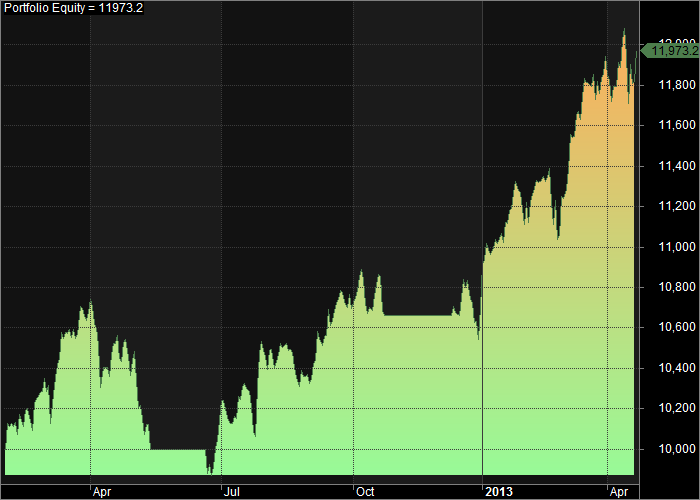 Flat areas of the curve mean the system was in cash.
I know we've been in a bull market, but this performance is not too shabby. Buy-and-hold CAGR for $SPY over the same time period is 13.99% with a maximum drawdown of -9.69%. The Caveman System has beat both the buy-and-hold annualized return and drawdown.
I'll be re-examining this system in the near future.
If you enjoy the content at iBankCoin, please follow us on Twitter