I'm struggling what to write tonight, or even whether to write at all. When dealing with loss of life and tragedy, the markets really don't matter all that much. Still, today's action was somewhat historic, and so I struggle.
I'm going to try and find a balance by just posting a few graphs and making a few comments about the graphs and leaving it at that.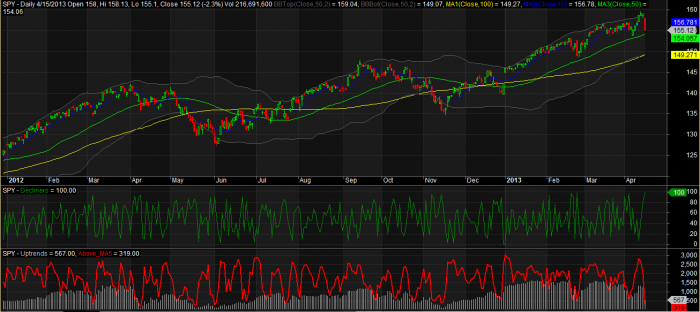 The graph above has 3 breadth indicators: one that is very short, one that covers a week or so, and one that covers an intermediate term.
The middle pane with the green line shows a percentage rank of the number of stocks that have declined. Note that it is at 100. Obviously it can't get any higher. Readings above 90 are good for an immediate bounce.
In the lower pane, the red line shows the number of stocks trading above their 5 day moving averages. It closed at 319. A reading of this level is associated with a bounce that can be sustained over a period of days or even a week. Although this reading is very low, I'm not sure if I trust it since the influence of the Boston tragedy is hard to quantify.
Let's look at another suite of breadth indicators.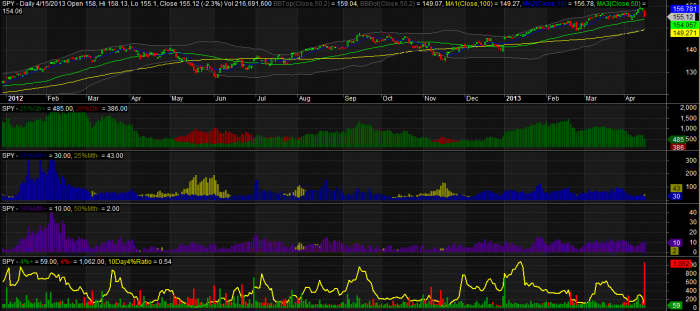 These graphs are based on Stockbee's Market Monitor. I've coded them over the past month or so in order to backtest them. I'm not going to write a great deal about them tonight, but I will highlight the big divergence in the first pane under the $SPY graph, which shows the number of stocks up more than 25% or down more than -25% a quarter. This divergence is a huge blinking yellow caution light.
Secondly, notice today's first peek of yellow in the middle pane, which means there were more stocks today that were down more than 25% this month than up more than 25% this month. Another warning sign.
So what I am seeing is the likelihood of a short-term bounce, but I do believe the market is entering a corrective phase.
I offer my thoughts and prayers to those in Boston.
If you enjoy the content at iBankCoin, please follow us on Twitter