@JBoorman tweeted something that sparked my interest:
lot of fear, not much selling, big tell. RT @ryandetrick: Since '90, past 2 days has seen LARGEST $VIX spike ever on less than 1% $SPY drop.

— Jon Boorman (@JBoorman) March 20, 2013
While the stat (largest 2-day $VIX spike on less than 1% 2-Day $SPY drop) seemed to be correct, I wanted to determine if this was truly a "big tell."
Let's test it and find out.
(To be clear, @RyanDetrick was the stat hunter that found the stat…)
The Rules:
Buy $SPY at the close when $VIX 2-day change is greater than 15% and $SPY loses less than 1.5% over the same 2 days.
Sell X days later.
No commissions or slippage included.
All $SPY history used.
Note that I relaxed the setup rules to try and get a good sample size. I also wasn't sure if the original stat was using a 1 or 2 day $SPY drop. I opted for 2 since it was symmetrical with the large 2-day $VIX spike.
The Results: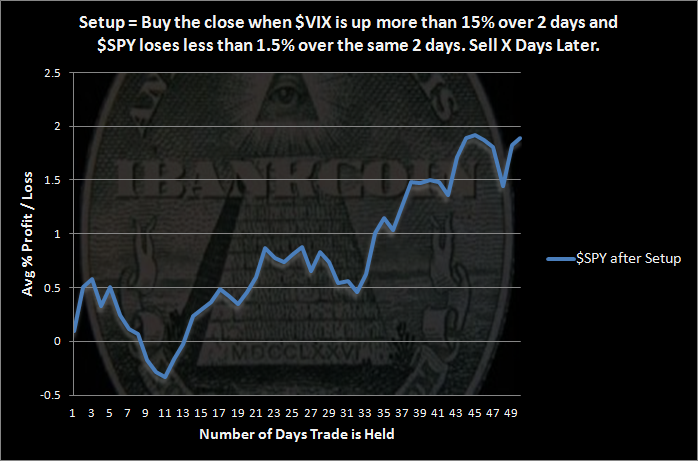 The graph above shows the averaged performance of all trades after this setup.
Over an intermediate term, the market gets back to bullish business as usual. Short-term, however, the market tends to pullback after this setup.
There was 41 occurrences of this setup. There were 35 trades made with 29 held for the full 50 days.
I'm not sure if it is a big tell, but it is interesting that the increase in fear does tend to weigh on the markets over the next week or so.
If you enjoy the content at iBankCoin, please follow us on Twitter