Today the $VIX, or CBOE Volatility Index (aka the fear index) posted a one day gain of 34%. Let's look at the ramifications of this rare event.
Using $VIX history going back to 1990:
There are only 19 times in the past 23 years that $VIX posted a 1 day gain greater than 29.99%
The largest 1 day $VIX gain was 64.22% on February 27, 2007.
$VIX posted 1 day gains of greater than 29.99% on 4 occasions in 2011, the most of any year
In 2012, $VIX never posted a 1 day gain greater than 29.99%
What's Happened Over the Next 100 Days?
We will buy $VIX or $SPY at the close after $VIX posts a 1 day gain greater than 29.99% No commissions or slippage included.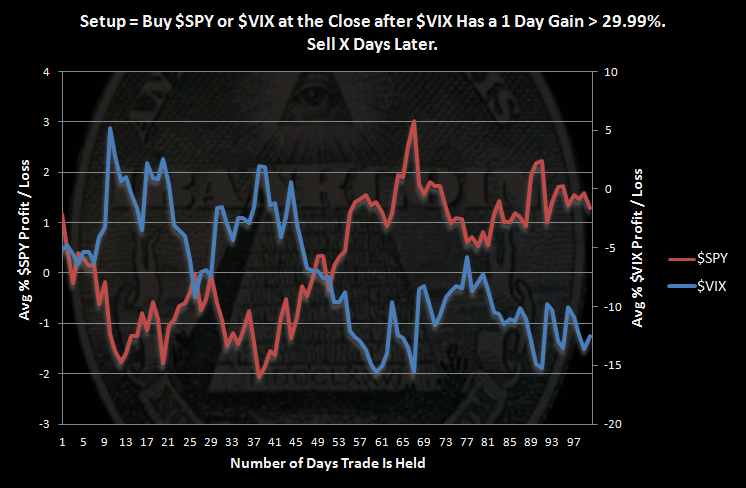 There were 19 occurrences of the setup on $VIX with 11 trades held the full 100 days.
There were 14 trades made on $SPY with 9 trades held the full 1o0 days.
The Left Axis has $SPY average profit or loss.
The Right Axis shows $VIX average gain or loss.
There are not many samples, so I am cautious of drawing strong conclusions. However, it is safe to say that this setup is not bullish. I like to think about the effect of a volatility explosion being similar to the effect of throwing a large rock into a still pond. As the waves travel outward from the impact, they get smaller and smaller over time and distance. Although the immediate effect is over fairly quickly, the waves take some time to diminish. Indeed, we see that relationship expressed rather elegantly in the graph above.
Previous Posts on Volatility Explosions:
$VIX Makes Huge Gains: What Happens Next?
More Research on Large $VIX One Day Gains
If you enjoy the content at iBankCoin, please follow us on Twitter