Over the past several days, SPY has fallen while VIX has flat-lined. Is there any significance to this?
Looking at the past few days performance, I find it odd that SPY has fallen from near 52 week highs, while VIX has not done much of anything. I would have thought that a pullback from near 52 week highs (forming a possible double top) would have caused more fear in the marketplace. Let's see what has happened after this has occurred in the past.
Buy Rules:
Buy SPY at the close when it loses more than -1.5% over a 4 day period AND VIX gains less than 2% over the same 4 day period.
Sell at the close X days later.
No commissions or slippage included.
All SPY history used.
Results: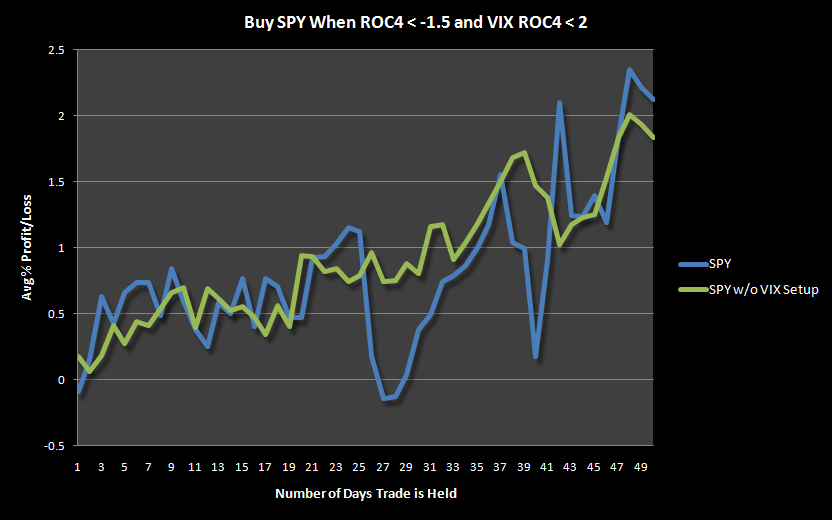 Summary:
There were 76 instances of this setup, (31 if held for the full 50 days) so sample size is pretty decent.
To make a better comparison, I also ran the test with just the SPY setup and without the VIX setup. Those results are shown by the green line.
It does appear there is a slight bullish edge because of VIX flat-lining.
I find it noteworthy that SPY doesn't do much of anything for the next 20 days or so after the setup occurs, and then the returns show some increased volatility. In fact, I think this is the most important implication from this study. I'm guessing that a flat-lining VIX must also experience some mean-reversion and this is reflected in the increased volatility 20+ days after the setup.
If you enjoy the content at iBankCoin, please follow us on Twitter