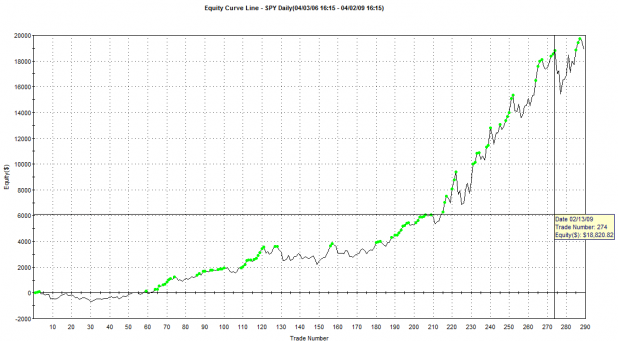 The equity curve shows the results of buying the SPY first close beneath the 2 day moving average (dma) and then closing the long position on the first close above the 2dma. It also sells short the first close above the 2dma and covers the short on the first close beneath the 2dma. In short, it is in the market all the time, trading around the 2dma.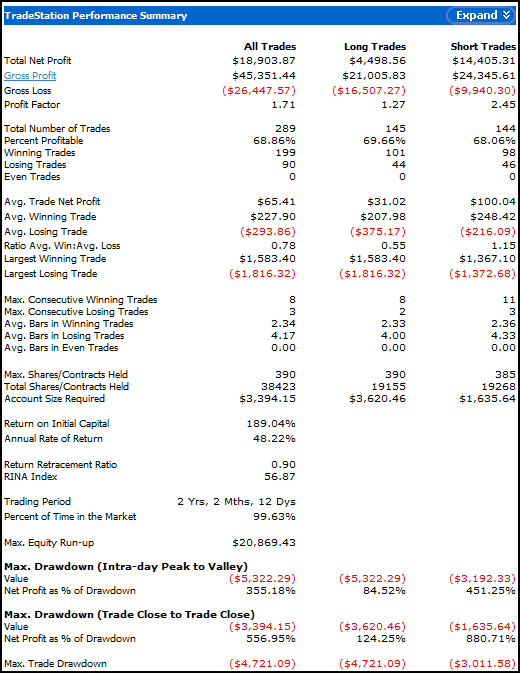 The system uses 10K starting equity, and compounds gains. No stop losses were abused in the making of this system.
Results do not include commissions or slippage, and adding commissions of $7.00/trade lowers the win rate to 62.2% and drops the annual return to 31.80%, reducing net profit by almost 9K.
The point is not to consider this is a viable system, but instead to observe and ponder the anomalies that come and go. I have been wondering for some time now how long it will be before this pattern changes.
If nothing else, when such a simple system works so well, for as long as this one has, I think that certainly the hardest part of trading is mastering the psychology. For example, I doubt even one person reading this has been trading a very short term moving average, religiously, despite the fact that the success of short-term mean reversion has been discussed by many bloggers.
I also wonder, if the same system was backtested during the previous (few) periods in market history where a very short term mean reversion system worked, and some ratios were developed to describe performance, with special attention applied to the ratios when it was outperforming versus ratios as it begin to fail, if a similar set of ratios would also exist for the current data.
Ultimately, the holy grail may be a simple system-health tool, able to be normalized across diverse trading systems, which would turn a system off before a meltdown. If such a tool were to exist, any new anomaly which lasted long enough to collect sufficient system-health data, could be traded.
Its fun to think about, anyway.
If you enjoy the content at iBankCoin, please follow us on Twitter