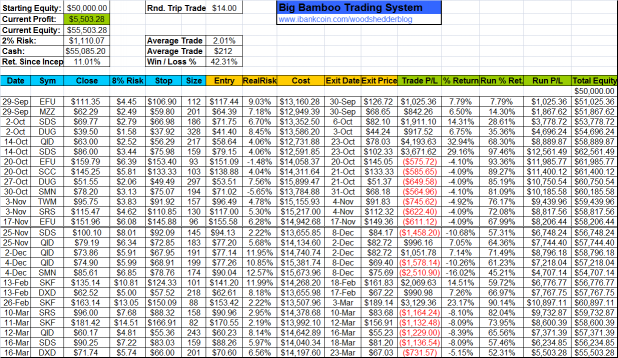 More pain for the Big Bamboo. DXD closed out on today's open, after the RSI2 for the diETF closed Friday above 70. The trade may have closed with a small loss, or a small gain (hard to know for sure) if the indices would not have gapped on the news of our government signing a 30+ year adustable rate sub-prime mortgage on our future.
All politics aside, SDS closed out on Wednesday last week after the stop was hit.
I am disappointed in the performance of the system. The win/loss ratio is atrocious, compared to what we expected through backtesting. Although this is difficult psychologically, the system is still showing a profit, since inception. Since it is all about making money, I'm trying not to overweight the win/loss ratio and instead focus on the fact that the exit criteria and position-sizing seem to be holding up well.
In the interest of fairness and transparency, the Bamboo selected ROM for entry today, but because I did not run the update over the weekend, I did not catch the trade, or alert everybody prior to entry. The trade would have netted a gain of 6.8% today, and would have been closed on tomorrow's open.
The Bamboo is now set to get long the bullish levered ETFs (as it did with ROM), as soon as there is a pullback.
If you enjoy the content at iBankCoin, please follow us on Twitter