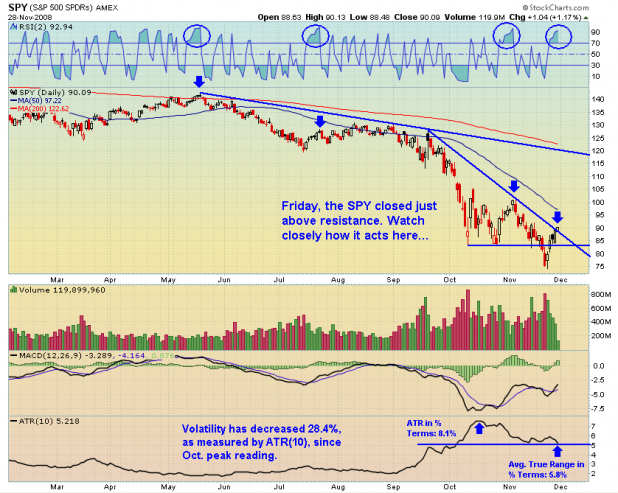 I am short the SPY, via SDS, as well as the Russell 2K, via TWM. Tomorrow I will add QID (more on that in a future post).
It has not been psychologically easy to initiate these positions, but the setup is money. In order for this setup to fail, the indexes will have to prove they have the strength and resilience to push through resistance and maintain an overbought status for more than a day or two.
If my index shorts stop out, it will have been different this time.
Here is what I'm seeing:
RSI(2): the chart shows that when it reaches this level, a reversal is typically soon to follow. If it does not reverse soon, RSI(2) may float in the overbought area, which would be bullish.
Resistance: the chart shows the SPY (the Dow Jones and Nasdaq are similar) closed Friday just above resistance. However, the close was not significantly above resistance, and volume has been weakening. Confirmation is necessary.
Volatility: If the indexes begin to pullback, it is likely that volatility will increase again. Volatility in November has been hovering in a tight range. A continued decrease in volatility, as measured by ATR(10), will be bullish, in my estimation. Should the indexes consolidate here, trading sideways, or continue to wedge higher, this will likely cause ATR(10) to continue falling off.
__________________________________________________________________________________________________
Obviously, I'm a little nervous here as the indexes have yet another chance to put in an intermediate-term technical bottom. The worst case scenario (for me) is that the indexes continue melting up, hit my stops, and then reverse.
There will be a pullback, soon. If volatility increases during the pullback, my positions will profit. A quick, short pullback, or consolidation on decreasing volatility will make me very very nervous that an intermediate-term bottom is in place, and I will likely seek to exit my short positions with small losses, or at break-even.
If you enjoy the content at iBankCoin, please follow us on Twitter