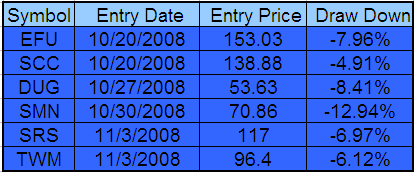 Above are the 6 most recent losing trades from the Big Bamboo system. I've included the maximum drawdown incurred for each trade.
As I mentioned in a previous post, with volatility more than doubling in October, the stops that worked well in backtesting should probably be doubled as well. This would take our optimum 4% stop and increase it to 8%.
Indeed, an 8% stop would have changed 3 of the six losing trades into winners (I'm not going to count EFU since it was so close to 8%).
As I know that some of you are taking at least some of these signals, I would recommend that you do not use the 4% stop until volatility decreases. I have not decided yet whether I will alter the system to use an 8% stop in tracking future trades.
After examining these trades, I feel even better about the system. I am likely going to start trading it for real, by the rules, soon. If I do, I am leaning towards using a 10% stop.
Side note: Some of the entries listed above are different from the entries used in the Big Bamboo tracking spreadsheet. The opening prices used in tonight's post came from a different data vendor. I left them unchanged, not matching all of the prices used in the tracking spreadsheet, to emphasize that in backtesting, having bomb-proof data with absolutely no errors is crucial. With the exception of EFU (off by almost 2 points, our listed open being $151.09), the difference was usually not more than .20 cents. The discrepancies were not great enough to render tonight's analysis invalid.
 
If you enjoy the content at iBankCoin, please follow us on Twitter