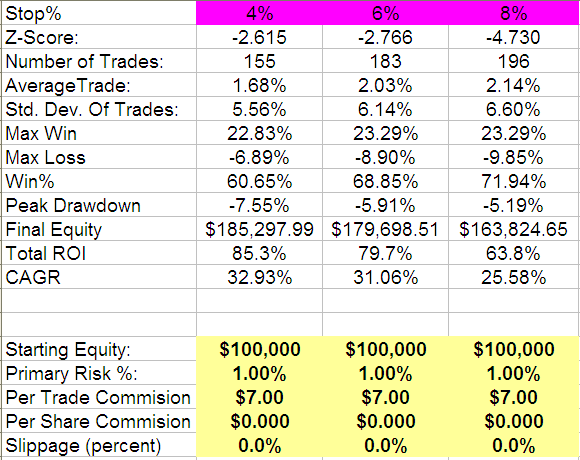 Before I give some explanation of how to interpret the above numbers, I want to give a huge thanks to BHH from IBD Index. Due to his help and expertise, my understanding of system trading and backtesting has increased tremendously.  He has been a co-developer of this current system (and others), and is responsible for all of the very cool Excel reports and charts that I will be posting. His blog has not recently had any of his fantastic reports on system testing and backtesting (probably due to how busy we've been working on systems), but the archives are must-reads.
The above report shows the statistics for trading this system using variable stop levels and variable percent risk, with commission and slippage included. (Actually, I didn't add in any slippage). The dates of the testing run from July 15, 2006 to October 3rd, 2008.
To be clear, here is how the position sizing works for this system. Assume a starting equity of $100,000.
4% Stops
Maximum of 4 positions means each position is allotted 25% of equity. The first positions would then start at 25K
Maximum of 2 new entries per day.
This ensures only 1%Â per position is at risk as $25,000*.04 = $1,000
6% Stops
Maximum of 6 positions means each position is allotted 16.66% of equity. The first positions would then start at 16.6K
Maximum of 3 new entries per day.
This ensures only 1%Â per position is at risk as $16,666*.06 = $1,000
8% Stops
Maximum of 8 positions means each position is allotted 12.5% of equity. The first positions would then start at 12.5K
Maximum of 4 new entries per day.
This ensures only 1%Â per position is at risk as $12,500*.08 = $1,000
Position sizing / money management will have a huge effect on any system and should be the top priority for testing, after the entry and exits. Viewing the system in these terms allows the trader to decide the optimum level of risk so that he may meet his goals while still being able to adhere rigidly to the rules. A system with huge profits and huge drawdowns may be just as bad as a system that does not generate high enough returns.
Z-Score: Read a primer on Z-Score here: Profiting from the Z Score, and here: Z Score
As this system has a Z-Score ranging between -2.615 and -4.730, we can assume with a high degree of certainty (at a confidence level of greater than 99%) that streaks longer than would be expected in a random distribution may occur while trading this system. This includes winning and losing streaks, but the Win% shows that the winning streaks are longer than the losers. To be clear, once this system starts hitting winning trades, it will continue to win. Similarly, once a losing trade or two happens, we know that it is more likely to continue losing than it is to start a new winning streak. This is why proper position sizing is of the utmost importance. I like 1% risk because that allows me to weather 10 losing trades in a row with only a ~10% drawdown.
Peak Drawdown: The peak drawdown on this system is currently very small.
CAGR: Compound Annual Growth Rate on this system is promising. The system stayed near flat for more than the first year of testing (equity curve to follow in another post). It should be noted that the YTD CAGR on the 4% stop system is currently running at ~95%.
Now let's assume we want to trade this system more aggressively, using 1.5% risk ($1,500) per trade. Keep in mind that if 10 trades stop out in a row, the draw down will now be at least 15%.
Here are the results: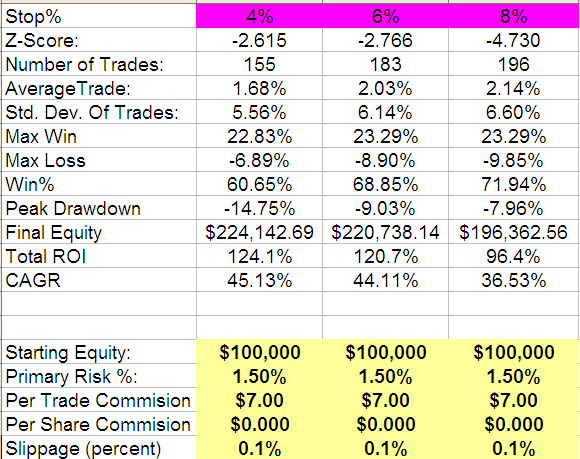 Note that I added .10% of slippage per trade, as well as increasing the percent risked per trade. CAGR is now a very respectable 45.13% on the 4% system.
Also note that the peak drawdown is now -14.75% (and since the future is often very different from the past, we should assume the next drawdown will be even larger).
A Final Note about Adapting the System to Market Conditions
If we know the system is prone to long winning and losing streaks, what if percent risk were increased with each winning trade, and then reduced on each successive loser? Sure, the first losing trade after a long streak of winners would be for a large loss, but that might be mitigated by the pyramid of profits before that loser hit. And then, each loser would get successively smaller, until another winner occurs.
We have done some preliminary studies on this topic, but have not yet developed a robust method for applying this strategy of adjustable percent-at-risk.
Up Next:
More really cool graphs, including equity curves of each stop level, trade distributions, and a chart of the drawdowns.
If you enjoy the content at iBankCoin, please follow us on Twitter