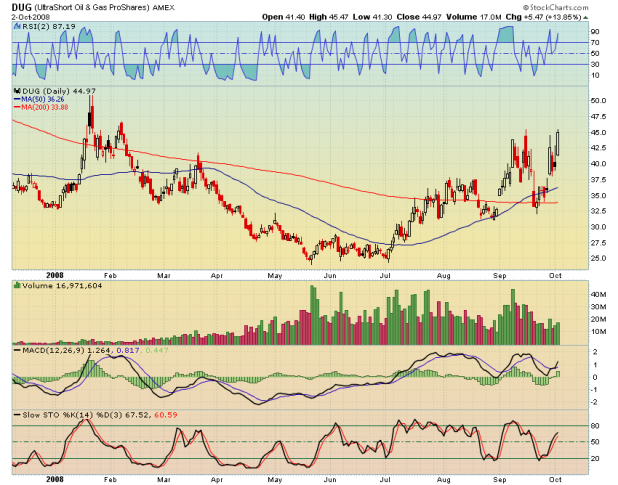 Both signals from yesterday evening, [[SDS]] and [[DUG]] did very well.
RSI(2) on DUG closed over 80, triggering a sell of the position on Friday's open.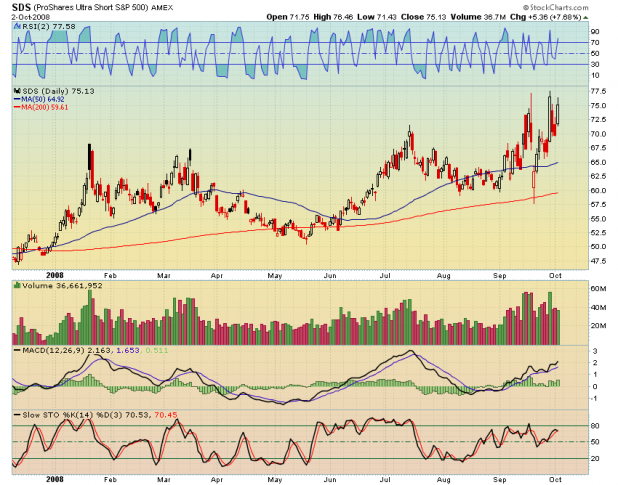 RSI(2) on SDS did not quite make it to 80. It closed at 77.58, to be exact. If one follows the rules, then this position should be held. This is where the psychology of system trading begins to have an impact. It is this very type of situation that I intend to highlight in these posts.
If I had this position on, it would be very hard for me not to sell SDS in the morning. RSI(2) is so close to 80. With the bailout bill up for vote tomorrow, my suspicions are that the indexes firm up, or even rally.
However, what if the indexes do not rally, and SDS is sold in the morning, and the trade sacrifices another 4% gain? Based on the backtesting, this trade would be allowed to either stop out, or get sold with RSI(2) greater than 80. Not allowing this trade to be closed out according to the identified strategy is a modification of the strategy. Will this tiny modification improve, or weaken the performance of the system? How many tiny modifications does a system trader have to make before the expected results are not similar to the backtested results? And finally, isn't mechanical system trading supposed to remove this sort of psycho-analytical self-talk, and make trading more easy?
This is all food for thought.
This trade will be left to run its natural course.
No new entry signals for tomorrow.
If you enjoy the content at iBankCoin, please follow us on Twitter