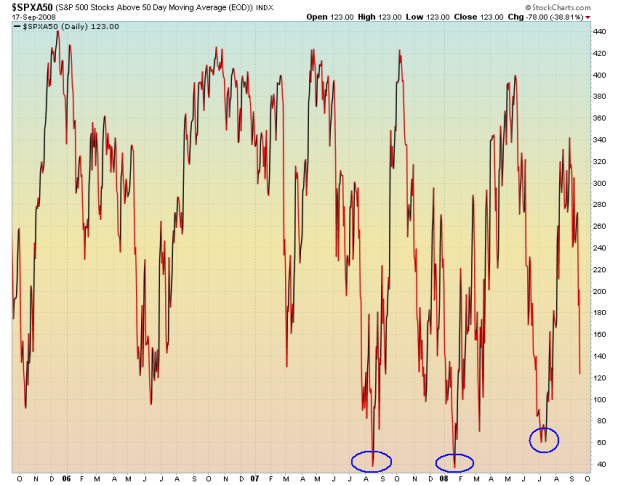 Last night, as I was in the middle of my analysis, I pulled up two charts: Number of SPX stocks trading above their 50 day averages, and number of SPX stocks trading above their 200 day averages. What I found was confusing and unsettling: Neither chart showed breadth to be even close to a bottom.
Keep in mind that Danny's Legend of Vance Bagger indicator is derived in part from the number of stocks trading above or below their 50 day averages. It should make sense why Danny has almost been screaming that the bottom is not yet near.
It would have been very wise for me to delve into the unsettling feeling these charts gave me last night, as I would have likely postponed my "This Is A Tradeable Bottom" post 'til a later date. Alas, humility is good for the soul, but not as good for the account balance.
The chart above shows that 78 stocks on the S&P500 dropped from above their 50 day average to beneath the average. Should a similar number of stocks move below the 50 day tomorrow, this breadth indicator will register a level that existed during the August 07, January 08, and July 08 bounces. This is circled on the chart.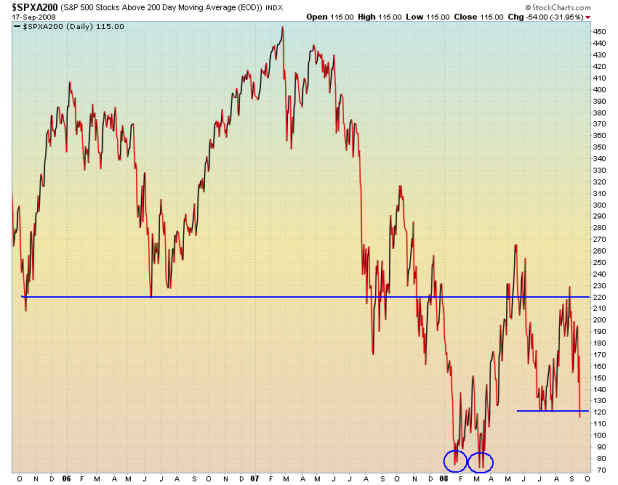 This chart is the number of stocks on the S&P500 trading above their 200 day moving averages. Last night it closed with near 150 stocks still trading above the 200 day, which was good enough for August 07, but not good enough for September 08. Today, the S&P500 had 54 stocks kicked beneath the bear market average. While this Summer found this breadth indicator reversing at today's level, It appears to me that another 60 stocks need to get knocked down for this indicator to be near the January and March bounce levels, which are circled.
I do not currently have data for previous bear markets, for these two measures of breadth. They may have ventured lower than where they bounced in January, during previous bear markets.
If you enjoy the content at iBankCoin, please follow us on Twitter