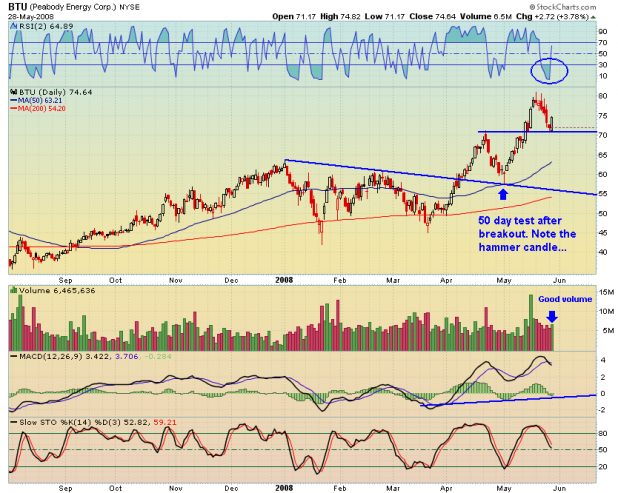 Possibly the best reason not to lose all your money in your first few years of trading is that the time spent practicing (and hopefully not blowing up your account)  allows you to develop a style or strategy that suits your personality and lifestyle.
I used to be a buyer of breakouts. I followed William O'Neil. I bought strength. Weakness was bought by morons who did not understand the power of the technical breakout. I traded this way for  several years, and was profitable, trouncing the indexes. However, I discovered that buying breakouts make me uncomfortable. There are two reasons for this. The first reason is my tendency to want to anticipate the breakout, buying early, often got me stuck in a trade going nowhere. The second reason is that after the stock would breakout, it would suddenly seem expensive to me, and I developed fears of constantly top-ticking my entries.
Eventually, my psychology got the better of me, and I was buying strength, buying breakouts, but scared of top-ticking the trade. Therefore, on any signs of a pullback, I would inevitably sell at the very bottom. The realization of this developing problem hit me around the time I started wanting to develop mechanical systems to trade.
Anyway, I decided to make a concious effort to begin buying pullbacks, especially those that come just after a breakout, like this setup I posted last night: Russian ETF: Nice Entry Setup. Incidentally, I did buy some RSX on the open.
It has taken me about a year to be able to buy pullbacks comfortably. In order to get to this point, I have had to develop a trust of several conditions that must be present for me to buy.
Like many traders, I missed the breakout in coal stocks, and watched in disbelief as they soared. However, BTU has offered a couple of entries, since the breakout. On the chart above, BTU broke out, and then made a perfect pullback to the 50 day average and a long term support line. That is one of my conditions; before I buy a pullback, the stock must bounce at an obvious area of support. It should be obvious, as you want other traders seeing the same thing, piling in with you. Notice too that RSI(2) was nearing oversold, which is a second condition.
Unfortunately, I missed the first setup in BTU. I've been watching for a second chance, and it came on Friday, as BTU pulled back sharply, nearing the area of a previous pivot point. RSI(2) was extremely oversold. I started a small position, and then doubled it on Tuesday, when BTU was able to hold just above its 20 day moving average. This was a money setup, and the trade has paid off today.
My three conditions for buying a pullback in a stock that has recently broken out:
1. Pullback to support, trendline or pivot point   
2. Very oversold on whatever your favorite indicator is. Mine is RSI(2).
3. Pullback to a major moving average, such as the 20, 50, or 200 day. Anything less than the 20 is not enough for me.
Now, I no longer anticipate the breakout and buy early, and I do not stress if I miss the breakout. I have found that these adaptations have made my trading more relaxing and comfortable. Time will tell if I can still turn large profits buying the pullback instead of the breakout. 
 
If you enjoy the content at iBankCoin, please follow us on Twitter