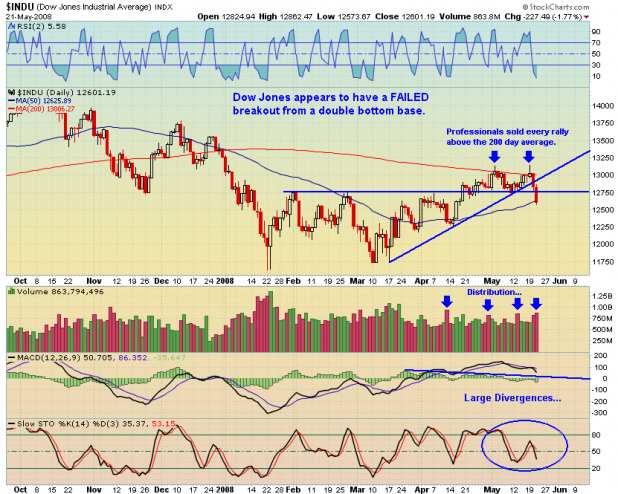 It seems painfully obvious to me that the professionals have been toying with the retail traders and Joey 401K trader, for the last several weeks. On the Dow chart above, notice the big distribution days, and the long shadows on the candlesticks when they traded above the 200 day average.
It may be important to remember that the Dow was the first index to lead off the March bottom, and it looks like it is still leading–back down, or sideways.
I have not completed any exhaustive research on failed breakouts, but what I have read is that most technical analysts consider a failed breakout to be more powerful than a breakout.
What is clear to me from the Dow chart is that the 50 day average must hold, over the next few days. Should it not hold, then we will have to consider some damned short setups we were using (successfully) just a few months ago.
My guess is that the Dow climbs back up to re-test the 12800 level, within a week.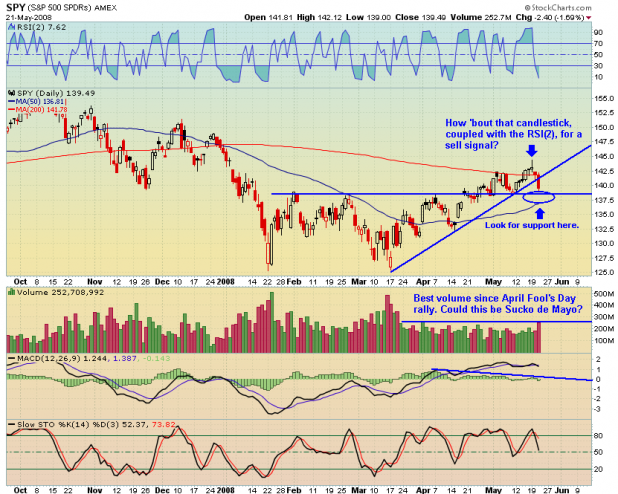 The SPY is again testing its double bottom pivot point. My guess is that it eventually will give way, but I believe it will be defended by the bulls. As Danny noted on his blog, both the Dow and SPY have broken a 2 month uptrend. It pays to be cautious here while we see if the SPY also completes a failed breakout.
I also want to point out that they month of May may turn out to be negative. Do I really need to cite ye olde aphorism?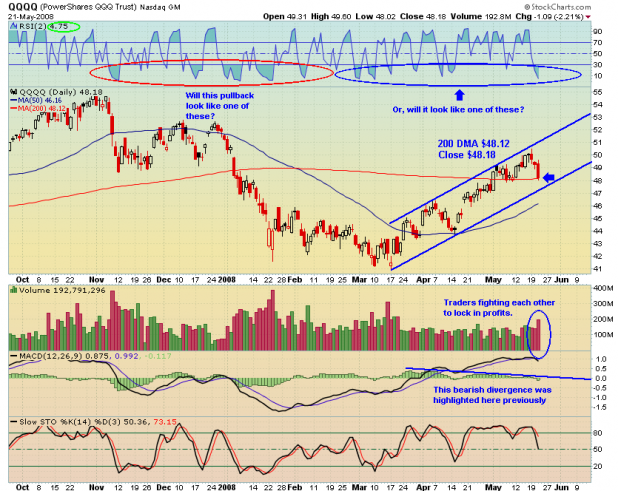 The QQQQ still looks good here. It closed pennies above the 200 day moving average and has not broken its uptrend.
Note the difference in the RSI(2) patterns when the index is downtrending vs. uptrending. Any dip buyers need to keep in mind that if this is the start of a new leg down, we could stay oversold for a painfully long period.
Ultimately, I will be a buyer of this weakness. I started two new positions today (XIDE and MA), and I will place more strategy trades at tomorrow's open.
I do not have any long term faith in this uptrend. However, the bulls are typically a stubborn lot, and I think they'll continue pressing their bets, in the near term.
If you enjoy the content at iBankCoin, please follow us on Twitter