The RSI(2) strategy has been working extremely well on [[FXP]]. The last entry signal was given Thursday for an entry on the open Friday. The latest exit signal was given today, for an exit tomorrow on the open.
The chart above shows the entries and exits with RSILE = Long entry and RSILX = Long exit. A $10,000 account size was assumed with each trade allotted the full 10K. The number of shares purchased is listed below each entry.
The performance report is listed below. The results are fantastic.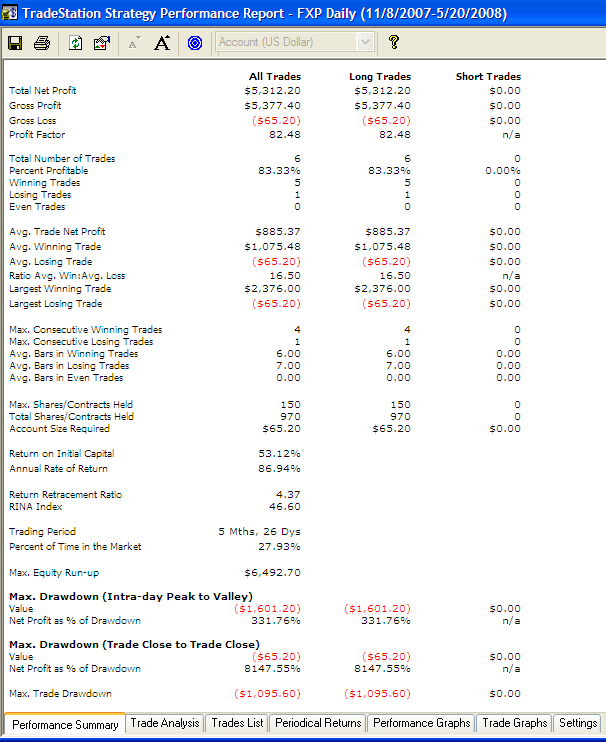 Not included in the performance report is the open trade from Friday. If the trade is closed tomorrow on the open at today's closing price, add another $650.00 to the profits.
The typical caveats apply here. Past results are no blah blah of future blah blah blah. In other words, FXP may never again work as well for this strategy as it has over the past 6 months. Statistically speaking, 7 trades do not provide enough data to generate significance. On the other hand, should this stategy keep working this well for another 6 months, one will have doubled his initial capital after only one year.
I have yet to develop a stop-loss for this strategy. Stops are not necessary until they are necessary, and every trader has differing squeal points. It looks like setting a stop of around 20% would have kept you in all the trades while risking only 2% of a 100K account.
If you enjoy the content at iBankCoin, please follow us on Twitter