On Thursday, the RSI(2) strategy triggered an entry into [[SDS]]. I took the signal (unfortunately early) and established a postion before the close Wednesday. In order to follow the strategy, the buy of SDS should have occured Friday morning.
The strategy is still signaling entry into SDS as RSI(2) < 10. Therefore, I added to the postion this morning, and since the S&P ultra short ETF is still signaling an entry, I will add to this position on the open Tuesday.
Rudimentary backtesting through Tradestation over the entire history of SDS (just shy of 2 years worth of data) using this strategy yields the following results: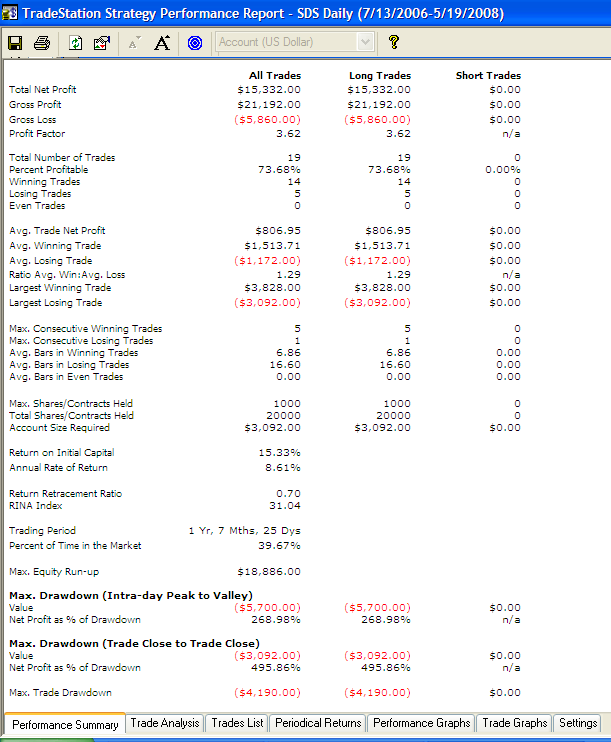 And the equity curve is below: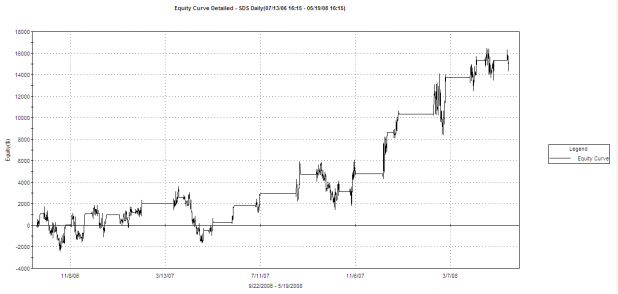 I do not currently use a stop with this strategy, so beware. The exit triggers when RSI(2) > 80. For the backtesting a 100K account size was assumed, and each position was either all in, or out entirely. I allowed $1.00 per trade in commissions, as that is what it costs me per 100 shares with Tradestation.
Adding a short entry and exit to this strategy doubles the percentage gain and doubles the return on investment, but unfortunately quadruples the drawdown as percentage of starting capital. The results above were from a long only strategy.
If you enjoy the content at iBankCoin, please follow us on Twitter