This morning, like every morning, I dashed out the door to begin the humiliating pilgrimage that every 'ham & egger' knows well. But while pulling out of the driveway, an odd feeling came over me that something in the yard was out of place. It didn't take long to realize what was wrong. Amongst a collection of potted tree aloes I've been displaying along the front of the house, it was quite apparent that my prized Aloe Ramosissima was gone. A picture of this plant taken last Fall can be seen below.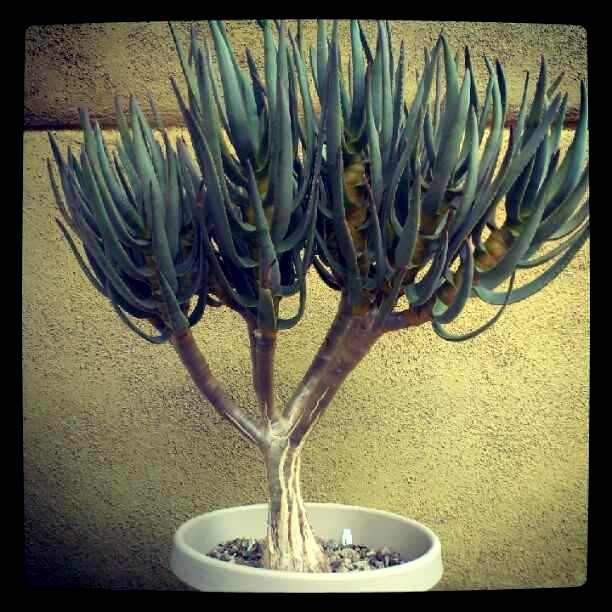 The experience of discovering its absence was quite surreal. Surely it was a comical sight as I wandered around the yard, peering about – as if someone were just playing a prank on me. This was no joke. A plant I had spent the past six years nurturing had evaporated into the night. When boastfully posting the above photo on Instagram last September, it was stated that I intended to enter this plant into a "cactus & succulent show". That show is taking place this May, and I was serious.

Still in shock, I began my commute, which had turned from a 'pilgrimage' to 'the trail of tears'. Shock, anger and hatred were all experienced, but it didn't take long for me to feel like an incredible fool. If I thought this plant was worthy of showing off to the world, did I not think someone else might also? And is it not human nature to steal? If I treasured this plant so much, why had I left it vulnerable to any passerby with a back strong enough to lift 25 pounds?
I had let my guard down. It seems that the past few years have been a dream-like haze of hummingbirds, craft beer, rare sneakers and internet shenanigans. Somewhere along the line, I had lost my watchful self. What a great wake-up call, and inexpensive lesson. What started off as a day of misery, pity and victimization, has turned into one of self reflection and a renewed sense of watchfulness that I'm now looking to apply everywhere.