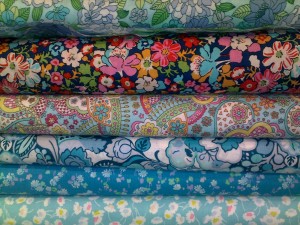 As it turns out, Liberty is a department store located in central London. It's history can be read about here, but what makes this store truly special is the fabrics they design and produce. As one who keeps an eye on trends in fashion, I've observed an increasing number of collaborative efforts involving well known brands with this entity named "Liberty".
These unions have involved such names as:
As you can see from the above links, floral/organic prints are hot at the moment, and offer a simple, yet dramatic change in the look of many products. The price points of these collaborations are quite a bit higher than than standard offerings, and often items like Nike are "limited releases", selling out within mere hours of their offering.
There is much more to consider before going long on the likes of $NKE, $TGT or $VFC, but what one has to respect is that these companies "get it". Creating limited edition versions of already existing items is brilliant marketing that appeals to the trend followers as well as brand loyalists and collectors as well. Fresh looks drive garment purchases, and staying current or even ahead of the trend is critical.
Keep an eye out. Florals, paisleys, and organic prints have been heating up and you will be seeing a lot more of them before they play out…..like digital camo did last year.