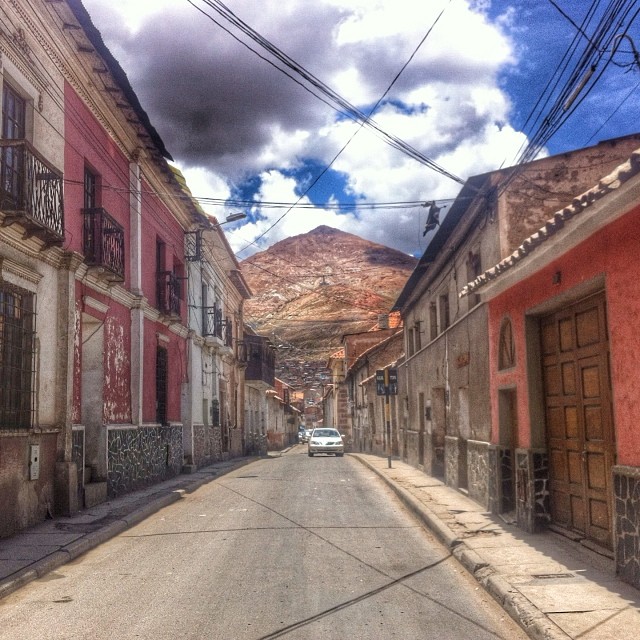 Good day,
I'm writing this from Copacabana with a few hours left in Bolivia before I catch an 11 hour overnight bus to Cusco, Peru to check out Machu Picchu. Bolivia was beautiful, fun and fantastically cheap compared to the other South American countries I've visited. I want to share with you a place I had no idea existed but really liked and believe you would as well.
The place is called the City of Potosi and it's one of the highest cities in the world at an altitude of over 4000M. The plan was to go to Sucre and Potosi was on the way but I never made it to Sucre. After touring the salt flats I didn't want to stay in Uyuni as it was dark, rainy and somewhat depressing so I took a bus to Potosi with some ladies i met in Chile and arrived at about 9PM.
Potosi is UNESCO World Heritage site because of its historic city. Supposedly at its prime it was larger than both London and Paris all thanks to silver, lots and lots of silver. It's a historic city because in Spanish Colonial times this was home to the mint where all the silver was processed before being sent back to Spain. As a result the city is massive with incredible architecture and countless churches.
The Spanish had something like 25 random mines but Mt. Potosi was different and one indigenous person sold out his entire country… Once the Spanish knew of the egregious quantities of silver in the mine they setup shop at the foot of the mountain; why else would one of the largest cities in the world be at 4000M+?
Supposedly at its prime, Potosi had roughly 200,000 people from all over the world.
This mountain was called Cerro Rico by the locals aka "Rich Mountain" and silver is still being mined to this day. Supposedly the mountain is so honeycombed that people believe it could cave at anytime. Sadly a big tourist attraction is watching the miners labor in nightmarish conditions; I didn't bother going.
I did however go to the Spanish Colonial Mint aka the House of $$$ aka the Casa de la Moneda and I think you'd all appreciate it as much as I did. As cool as it was, it was also insanely sinister as you can only imagine what types of conditions and atrocities against mankind transpired inside the walls as well as in the mines to fetch the silver. The indigenous people took the worst of it without a doubt.
I found out about the museum on the last day and glad I went but forget the museum for a minute. This is one of the biggest colonial cities that has never had an earthquake or been involved in a war so it's mainly original buildings. Easy to spend time in the city and do check out the central market.
What's crazy is how Spain stole all the riches from Bolivia but now find themselves in trouble. I guess your income is really irrelevant compared to your money management skills, yes? If in Bolivia or touring South America, I suggest you hit up Potosi, you'll enjoy it.
I'll write more about Bolivia some other time, now it's time to prepare for Peru.
Tips hat,
Comments »