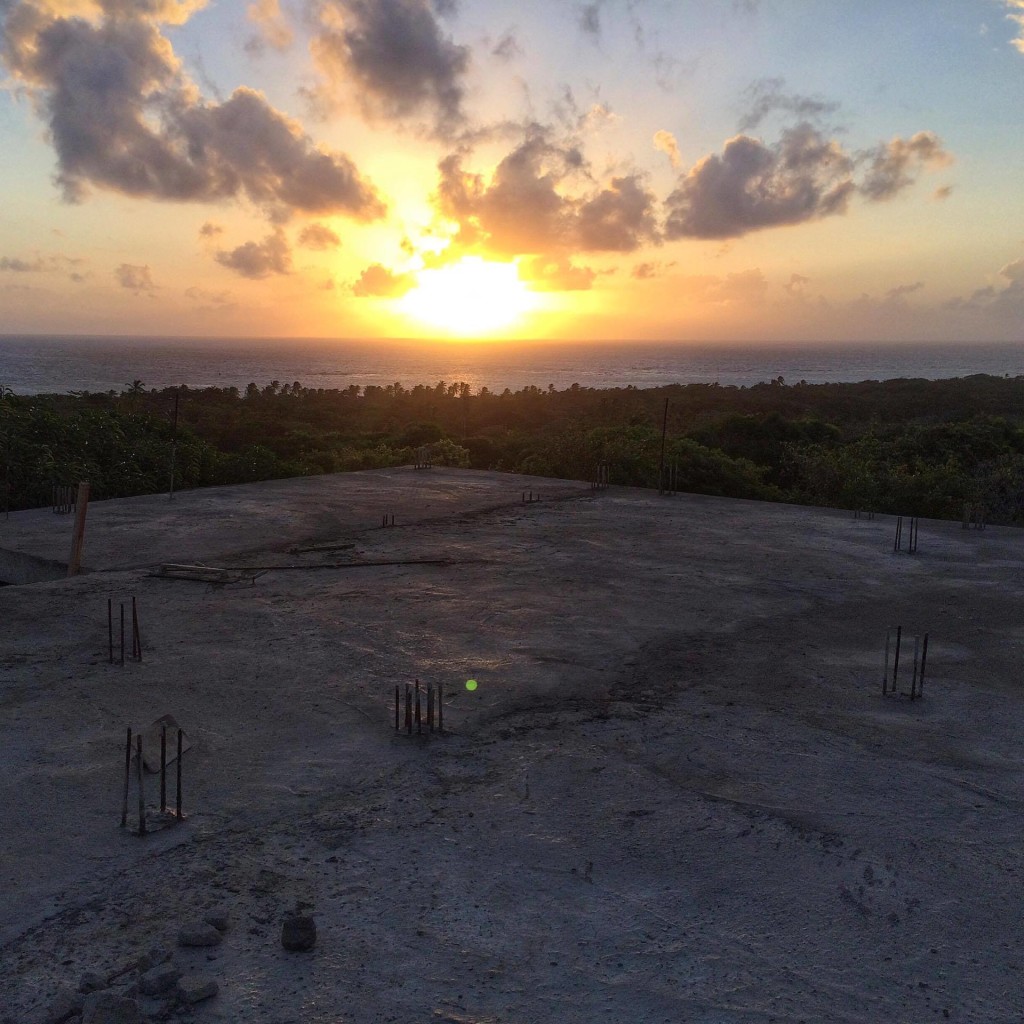 Greetings,
I'm writing this from Little Corn Island, big surprise…
Anyways, we've poured the roof at Alta Vista and it's a huge relief. Now the hardest part of the building is done and we're cruising to the finish line, sorta. We still have a long way to go but we've come much further than we've got left which is cool. If this was a baseball game and I was stealing second base, I'd be close enough to second that regardless of the outcome, I'd charge it and hope for the best; that's exactly what I'm doing.
The pour was brutal and took 13 hours with 16 gents. We mixed 146 sacks of cement with ~560 sacks of aggregate; half sand and half gravel. Then it all had to be brought up twenty feet to the roof. It was cold and damp with a light rain and we ran out of water so gents had to carry garbage bins full of it to the spot. I hope none of you ever have to go through anything like this and if I didn't already know the "value of a dollar" I definitely do now.
The good news, I now have a 1224 sq foot patio on on my roof with a panoramic view of the Caribbean Sea and front row for my favourite event of the day, sunrise. The home is 3672 sq feet including patios which usually aren't included but should be if you're in the Caribbean as that is where you spend most of your time. So basically it's 2080 sq feet of interior living space with two 23 x 8 ft patios on each floor and then the entire roof is a patio.
The bad news is I'm sick as a dog and have locked myself inside my house for the last ~36 hours. I always get sick then feel better and go full only to become seriously ill. I'm like a boxer who gets knocked out, gets up and forgets he was just knocked out if that makes sense. Either way, now that I have 3G at home it's not so bad and I'm already making plans for my departure.
I've realized that I don't want to live anywhere, living somewhere is boring. It's cool to have roots and homes places but actually spending your entire life there, really? What are we, trees? We were given feet and big brains to develop fast means to transport ourselves around this planet for a reason, yes? I'm hoping this whole deal should be wrapped up before my 36th birthday at the end of June and then I can be "re-released into the world" with a new outlook and same old life mission – to stop having a boring life. If you're looking for a little inspiration to get traveling, check out this list of inspirational travel quotes to get you going.
For those of you sitting around in an office looking at the stock markets as a way to get out of your current situation, I feel you. I too was in your seat and I can't give you a road map but I will tell you that if you don't stop looking, you'll eventually find what you're looking for. Just remember, most think they have gone the distance when they have just merely started; commit and go the distance and the rewards will be beyond anything you ever imagined possible.
Tips hat,
If you enjoy the content at iBankCoin, please follow us on Twitter