Surprisingly, China led the way today with the $FXI, China Large-Caps, up a cool 2.22%. Indeed, it was good to finally see the Chinese Netflix, ie. $IQ, find its footing. It was also nice to see "The Fly" back with his $BILI club. And, as for me, I jumped back in Chinese retailer, $JD. The technicals make for an easy swing trade, see below: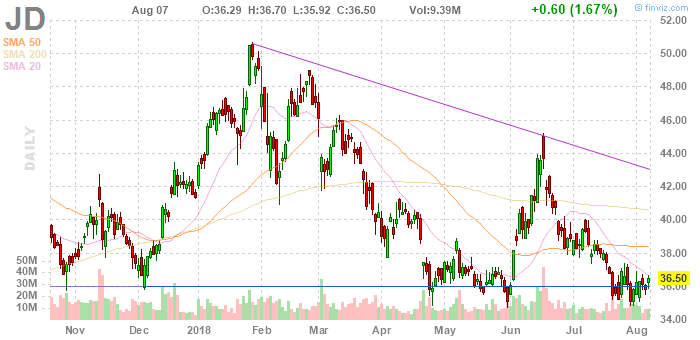 __
I love how price gets rejected each time the stock trades south of $35. This gives us a clear area to define our exit should the trade finally break through those levels. Let's see if today's momentum can carry into tomorrow's session and break price back above the 20 day moving average.
My stop is set just south of $35. Let's let the trade work.
Bonus: Here are all 250+ top hybrid movers on the day, courtesy of Exodus. $JD makes today's list: CLICK HERE.
Bonus II: Exodus members can save this China Screen HERE.
If you enjoy the content at iBankCoin, please follow us on Twitter