The following morning view is presented prior to 8:30am employment information which may shift the outlook of the session.  Check the comments below for added commentary.
The market has been trying to go higher during the entire month of November and also during the final days of October.  Yet it hasn't.  Yesterday the S&P rose to a new high marginally after a somewhat unexpected rate cut by the European Central Bank.  At that point we witnessed a failed auction where price was sharply rejected by sellers.
We spent the duration of the session pressing lower and even established value at the low of the session.  It now seems the market is trying to go lower, and the concept of sell flow or a large sellers' presence in the market seems more reasonable.
Overnight we saw a bounce in the futures until the early US hours.  Since around 6am the sell flow has reemerged and we are well off the overnight highs.  The sellers continue to exhibit control on the tape overnight, they are exhibiting control of the intermediate term auction, and the long term auction is still dominated by buyers.  I use the following value migration chart to justify sellers controlling the intermediate term auction: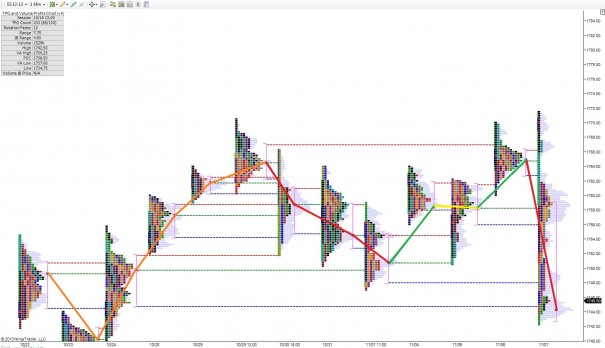 Paramount to the buyers regaining control would be for price to trade back above our overnight high at 1751.  There is a low volume node in yesterday's profile at this level and also at 1756.  Climbing price back above these levels would suggest the elements that provided sellers with conviction have materially changed.
Below, I am keen on the support cluster from 1739 – 1737.  Should sellers blast through this zone with little recourse, we could be in for much lower pricing.
I have envisioned a scenario for today's session, as well as highlighted the aforementioned price levels on the following market profile charts: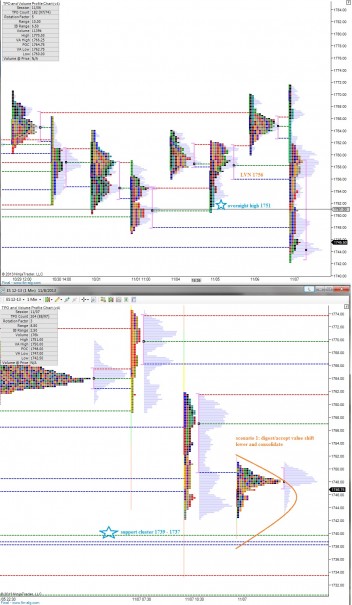 Comments »