Whether you trade weekly, daily, tic, range, or minute charts you MUST recognize a lack of trend and behave accordingly.  To trade momentum there must be momentum.  I know V.King would enjoy that sentence.  Once you recognize conditions where momentum is gone, you must adjust to fading extremes or sideline yourself.  That's it.
I like to use EMAs to give a trend some visual clarity.  When EMAs of different speeds (i.e. the 9 and 33 period) converge and then flatten out, that's a strong indication the market is on pause.  Such was the case all morning.  Today it was easy for me to avoid because we were working inside a tight market profile and we had the Fed in the afternoon which I knew would give the market a pause.  More times than I would like to admit, I haven't been so astute.  And every time I fail to recognize these conditions the alogs pick me to pieces.
I've been a doubter of any such trendless action most of June, but as the month drags on it's becoming a distinct possibility that we're entering a flat consolidation phase.  My 9 and 33 are flattening out and going sideways.  It would make sense too given that my momentum plays are all fizzling out.  Take a look: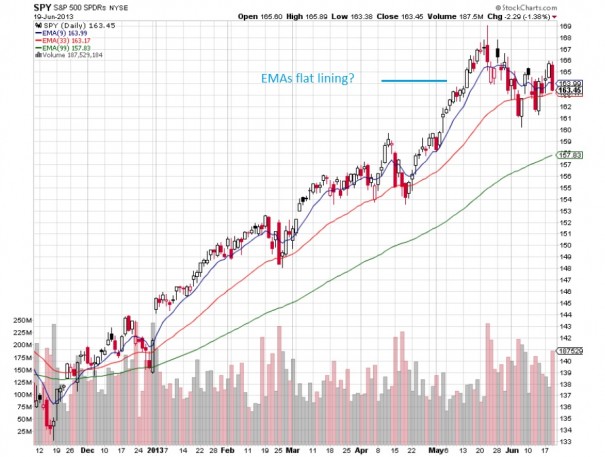 I've spent the last few weeks churning my portfolio with small wins and medium losses.  All-in-all I've given back hard fought gains.  Anyone who tells you the gains came easy is wrong and unwashed.
Today I cut most of my China junket.  I sold off BIDU, YY, and MY.  I sold WETF along with the Fly and I took some profits in CREE, keeping the position about ½ size.
You may notice a much less manic tone in my writing.
I'm up over 50 percent cash now and lost around 1 percent today.  Current longs listed largest to smallest are as follows:
YGE, HMIN, IMMR, RVBD, CREE, SCTY, RGLD, TPX, and FB
I want to keep my speculative swing positions down.  I'm getting confused, tracking so many positions.  Plus liquidation becomes more taxing by my broker.
I'll ride most of these through the trendless chop of the index.  But I swear little allegiance to any and will cut to make room for others.
I don't love the idea of shorting up here, but both T and JBLU look like great swing shorts to my eye.
Bottom Line: It's summer now.  We may still push higher but we're showing signs of stalling momentum.  This is the third major pullback too, it has a much lower win rate then the first two.  HOWEVER, we're on the proper side of the 33 EMA, my primary demarcation.
Comments »