Nasdaq futures are currently down just about 5 points during an overnight session which featured more sellers than buyers but overall printed a balanced session.  There were several economic data points out of the UK and Europe early this morning including UK GDP YoY which came in just a tad below expectations (3% actual, 3.1% expected) and German CPI which was in line with expectations.  During our hours of trade, we only have the U of M Consumer Confidence report at 9:55am.
Yesterday we [nearly] printed a Normal day during the regular trading hours.  The range actually extended past the initial balance by a single tick during the final 15 minutes of the pit session after the stock market closed.  Normal days lack the directional conviction of other market profile formations.  It started with a strong responsive selling drive which may have been prompted by some unexpected news early on.  The action was contained within the prior day's range and a two-way auction ensued which eventually gave way to buyers pressing to the high by closing bell.  The net effect was slightly higher prices and value, and a clear "crime scene" or low volume node which separates  where buyers and sellers gain short term control.  See below: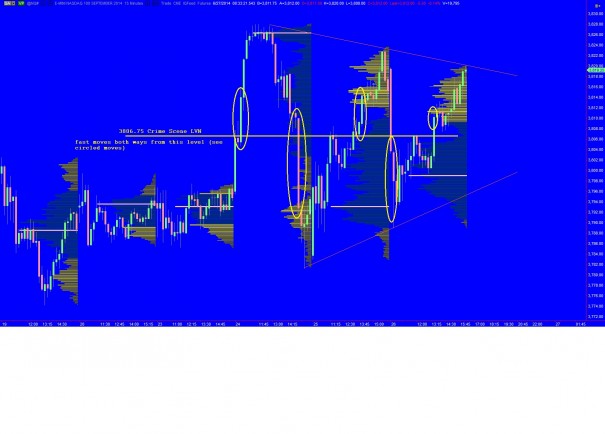 The same price level shows up on our composite profile which encompasses all the price action during our swing trade: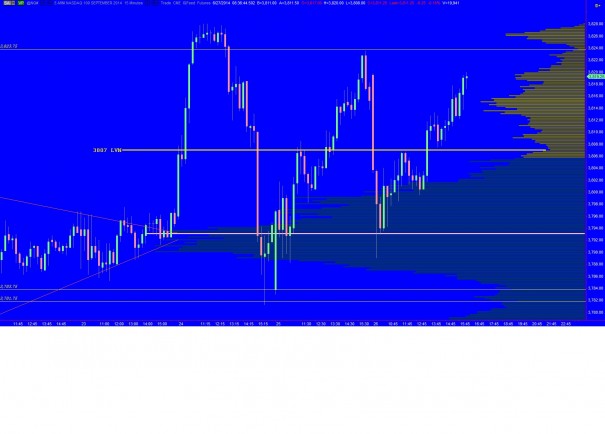 Lacking directional conviction makes sense given the bigger picture.  The Nasdaq is coming to terms with swing highs and the market is simply a mechanism for participants to exchange contracts based upon their perceived value of the Nasdaq.  You can imagine many participants are active at these price extremes because the proximity to prior inflection points demands the attention of all timeframes.
Keep in mind, we start a new month Tuesday, the market has shown headline sensitivity regarding Iraq, and 4th of July is one week away.  We may enter a holiday drift.  However these are not price levels where you want to become complacent.
On the short term, I have observed a few key price levels and market profile features: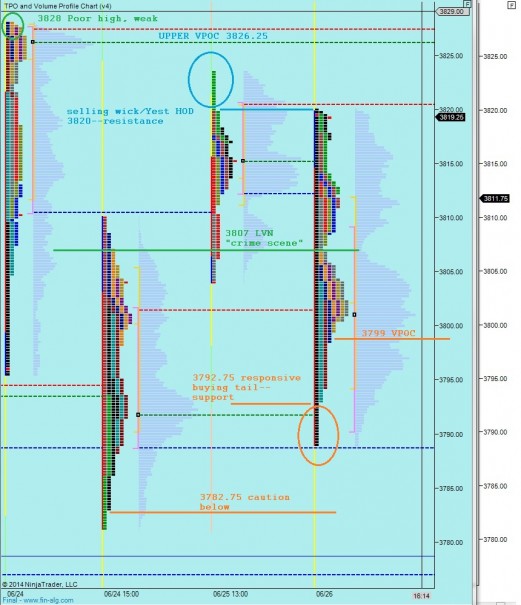 Comments »