Nasdaq futures are flat as we head into Friday's trading session. The holiday shortened week featured flat trading until yesterday when an early OTF buyer came in and triggered a short squeeze. We then spent much of the afternoon drifting sideways with a slight upward skew.
The action carried into the overnight session where prices continued to drift higher until early this morning when a seller knocked them back a bit. Price held yesterday's VAL and is working higher as we approach cash open.
Heading into today, my primary expectation is for buyers to push into this morning' seller to close the gap up to 4414.75 and test yesterday's high 4415.75. Here I will look for sellers to defend and then push us below the overnight low 4406.25 to work us back into Wednesday's range 4393.50.
Hypo 2 is buyers take out yesterday's high 4415.75 and target the overnight high 4425.25.
Hypo 3 is sellers push down through yesterday's low 4387.25 early and down into Wednesday's range to target 4382 mCVPOC. Extended target is NVPOC at 4360.
Markit MFG PMI at 9:45 may lend to a choppy 2-way open until after the number.
Levels below: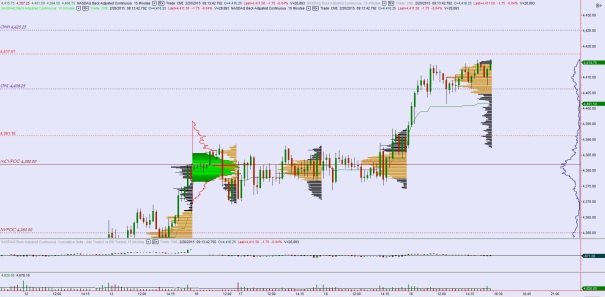 Comments »