We started the month of March up near swing high with market trading sideways in the short term. Price went gap up Monday and tested higher before finding responsive sellers, then tested lower yesterday and found responsive buyers. Heading into today, the Nasdaq is slightly positive on the month. Price managed to cut slightly higher than it did lower in the process, likely the case due to its alignment with the higher time frame trend.
Yesterday was a busy day economically and it showed. The Nasdaq was whipping around pretty good yesterday as it digested record builds in oil/gas inventory and the Fed Beige Book. This morning we had Continuing/Initial Jobless Claims out at 8:30am while a Mario Draghi press conference took place.
We also have Factory Orders at 10am and Natural Gas Storage stats at 10:30am. Also at 4:30pm the Fed will release the preliminary results of its 2015 Bank Stress Test.
Heading into today, my primary expectation is for sellers to work into the overnight inventory to target a gap fill down to 4445.50. If buyers can defend then I will look for a move toward overnight high 4458.75.
Hypo 2 is sellers push down below 4440 triggering an acceleration lower to take out yesterday's low 4422 to target the NVPOC at 4418.
Hypo 3 is buyers continue working up above 4458.75 to target the mCLVN at 4465.25 and work above Tuesday's high 4472.50.
Levels are highlighted below: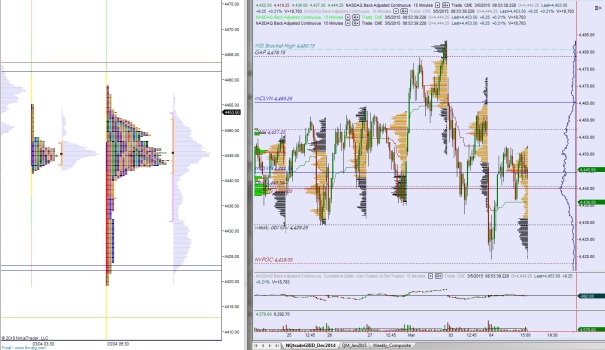 Comments »