Nasdaq futures pushed higher overnight and achieved a news swing high in the globex hours.  The thrust occurred right around 3:30am and does not align with any economic release, thus it is the result of either a news development or simply more buyers than sellers.  As we approach US cash open, prices are off the highs of the session.
Personal Consumption statistics came out at 8:30am in line with forecasts which initially has brought little activity into the market where we are holding onto the overnight gains.  We have Chicago Purchasing Manager at 9:45am and U of Michigan Confidence numbers at 9:55am.
Yesterday's auction was effective and methodical.  You will often see the Nasdaq futures operating in this manner.  It will go about the day resolving unsettled items one after another.  The gap higher on Monday did not quite resolve on Monday when prices stopped a tick above the full gap fill.  Yesterday we filled the gap before finding a responsive buyer who returned us back into the upper balance formed this week.  They closed the weekly gap, then they closed the range gap between Wed/Thurs, then they targeted a full overnight gap fill, stopping just one tick shy of this achievement.  It was a very methodical process.
I have highlighted the key LVNs as well as a measured move target which is a point shy of where we printed our overnight high: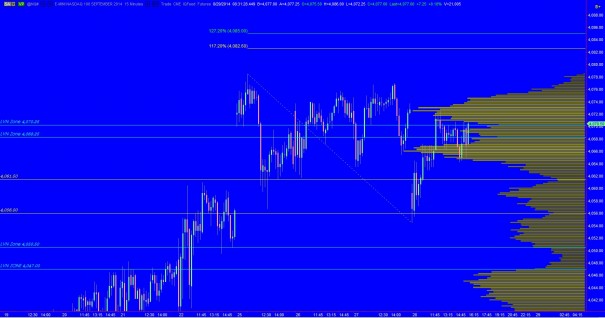 I have also noted the short term levels I will be observing on the following market profile: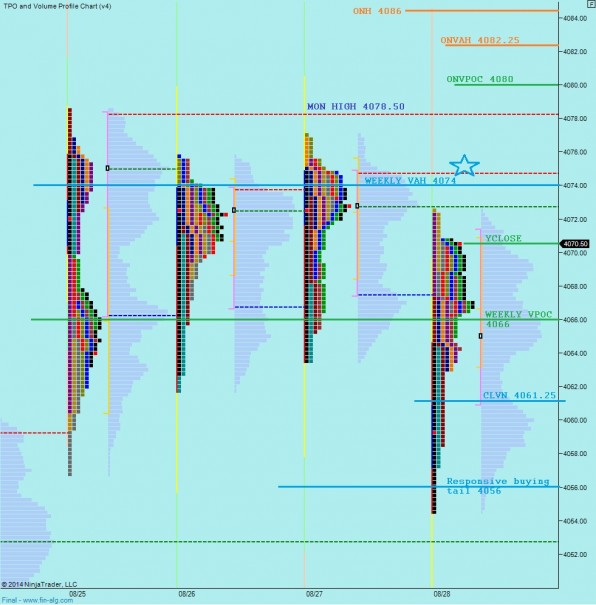 Comments »