Futures have been busy inside the hours of globex. Futures have been busy during RTH. Futures, have been busy. The globex open was delayed last night while the exchange made an adjustment for a leap second. It's rare, and weird, but if you're a real market junky click here for the full CME documentation. Despite the shortened session we managed to print a highly abnormal range, beyond second sigma, on abnormally high volume. Greece officially defaulted on the IMF last night, but the session was otherwise without much headline volatility.
On deck this morning, we have ISM manufacturing at 10am but attention is likely to soon shift to tomorrow morning's NFP release, set to be out a day early due to the markets being closed Friday.
Yesterday we printed a neutral day inside of the lower half of Monday's trend day down. Sellers worked the overnight gap closed before buyers came in and in one swift rotation pushed through the entire range to put us neutral before we settled back to the mid.
The overnight action has created a curious case—we now have a gap below that likely needs to be resolved, but we're also trading just below a few upside gaps. Also just above is the VPOC of the whole year at about 4450. Sellers roundly rejected the CVPOC Monday morning, but now we're back up to test their conviction.
Heading into today, my primary expectation is for buyers to push off the open, gap-and-go style, to take out overnight high 4441.75. This sets up a move to the CVPOC at 4450 and the open gap at 4454 where we churn about before ultimately fading lower into the afternoon.
Hypo 2 sellers push into the overnight inventory to test yesterday's range 4412.50 but stall ahead of the range setting up a move higher to take out overnight high 4441.75 and target the CVPOC/open gap 4450/4454.
Hypo 3 sellers push down through yesterday's range 4412.50 setting up a gap fill to 4390. Sellers overshoot the gap and take out overnight low 4388.75 setting up a test of swing low 4368.25. This hypo will require heavy OTF participation because we've managed to form some decent structure below (see market profile).
Levels: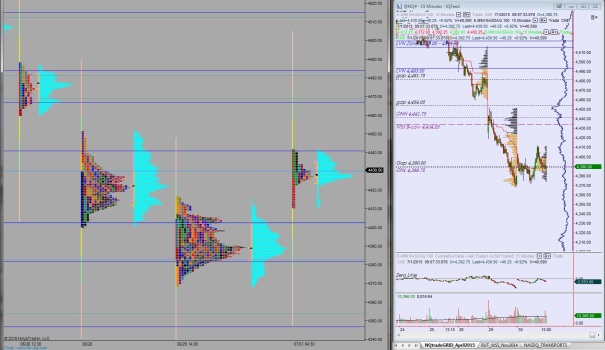 Comments »