Nasdaq futures are lower overnight and as we come into cash open price are hovering just below Thursday's range. Volume and range remain 2nd sigma elevated as the aftershocks continue to rip though global markets after an unexpected move from the SNB.
We came into the globex session with sellers pushing and the continued to do so into the afternoon and evening yesterday. INTC earnings were inline yesterday but shares still traded lower which may have contributed. Price pressed into the open gap from 10/27 before finding responsive buyers ahead of a closing of the range gap. Buyers pushed up but were unable to reclaim Thursday's low 4077.75. We then revisited, but did not take out, the globex lows giving the session a weak looking low.
At 8:30am CPI data brought some buyers into the market who again struggled to reclaim Thursday's lows.
We had Industrial/MFG production numbers out at 9:15am. We also have U of M Confidence at 10am, Fed's Williams speaking at 11am, and Fed's Bullard set to speak at 1:10am. The markets are also cruising into a long weekend as they will be closed Monday in observation of MLK.
Yesterday's session featured sellers continuing to control the action. There was an interesting shelf formation at 4106.75 which served as a pivot for much of the session. Sellers eventually claimed victory of the area. Early on my primary expectation is for buyers to work into this overnight (short) inventory and close the overnight gap to 4089 to target the VPOC at 4095.25. There I am looking for responsive sellers to step in and continue driving lower. A return to the scene of the CPI bounce at 4061 puts us at the overnight midpoint. From there we continue to take out overnight low 4041.50 and close the range gap to 4040 then the full gap to 4033.
Hypo 2 is sellers drive off the open and run into a bit of demand at 4061 but overrun it and go fill the gap at 4040 then 4033 and overshoot to tag the NVPOC at 4028.
Hypo 3 is sellers early who are defended away above 4061 and buyers push the gap fill and retake the shelf pivot at 4106.75 to set up another leg higher.
You can see these price levels below: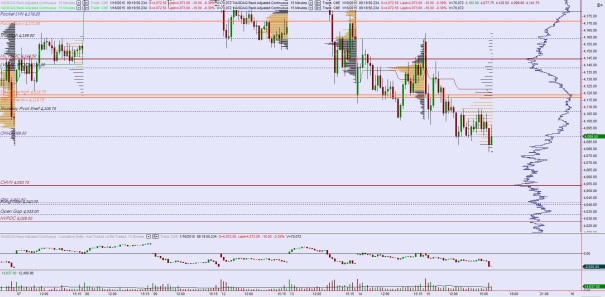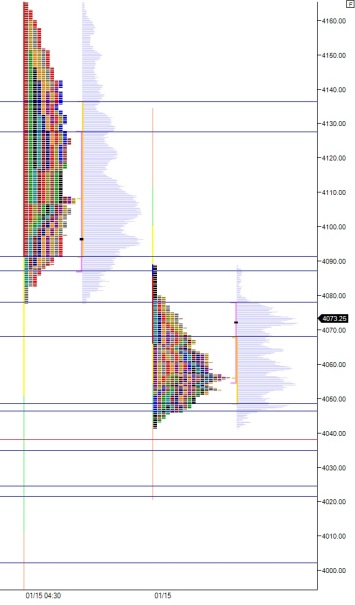 Comments »