Nasdaq futures are down as we head into the holiday shortened week after news from Greece began to deteriorate over the weekend. Futures opened and immediately pushed gap down to 4400 before a well-balanced, 2-way trade ensued. Volume is abnormal but not breaching the extreme 2nd sigma threshold. The range on trade post-gap down is elevated, but including the range of the gap we have extreme 2nd sigma range.
I envision this Greek news slowly fizzling out this week, but as for today, it's likely to be of elevated importance. With headline risk high, we may see less impact to today's only economic event—Pending Home Sales at 10am. Keep in mind, we have NFP data out on Thursday instead of Friday due to Independence Day (USA#1).
Last week we started with a big gap up and essentially spent the rest of the week fading it lower. On Friday liquidation accelerated through an air pocket present on the profile before finding responsive buyers to end the week.
Heading into today, my primary expectation is for buyers to push into the overnight inventory and test higher. Look for sellers to defend 4446 and two way trade to ensue, north of the overnight low 4400.
Hypo 2 buyers push up through 4446.75 and continue higher to 4467. If they can breach this levels as well, look for a throwback to the scene of the crime, the open gap up at 4481.75. Note, this is pro gap territory—thus attempting to fade it is an effort requiring "professional" resources. The half gap scenario above is more likely.
Hypo 3 we take out overnight low 4400 and test below prior swing low 4386.50. Look for responsive buyers otherwise liquidation grip the market and sellers push to target 4353.50.
Levels: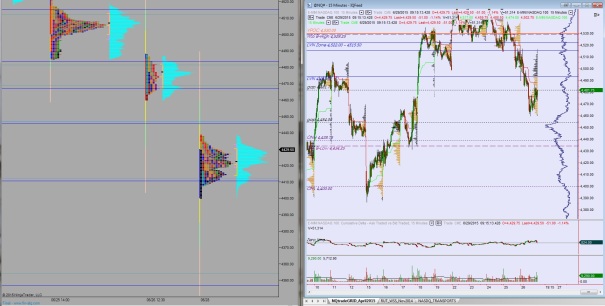 Comments »