The NASDAQ futures market showed a bit of follow through on the behalf of the sellers, where price took out our Monday morning low.  However, the probe lower, likely algorithmic in nature, was met with a reactive buy force and price swiftly auctioned back into yesterday's value range.
Conversely, the SPX futures made no new low overnight, instead continuing to coil.  There has been a subtle bit of relative strength exhibited by the SPX verses the NASDAQ composite these last few days including yesterday where we printed a normal day.  In market profile theory, a normal day features a dynamic open, likely driven by a longer timeframe trader entering the marketplace.  The range of the first hour is not breached for the rest of the session.  These are very rare, occurring in the SPX only five times in the last six years.  Oddly enough, we printed a normal day in the SPX on Friday and Monday.
The action suggests coiling and this uncertainty is suitable for our current situation.  We are nearing the close of a very strong year in the markets.  Many are likely closing their books early to lock in the gains, yet we have strong pockets of momentum in select industries.  The Fed, our current market moving exceptional, is experiencing a changing of the guards from Bernanke to Yellen and we have taper talks given the recent progress in the labor markets.
The markets have two choices today.  Either continue to coil ahead of Wednesday's Fed announcement or move away from here.  I have bracketed both the NASDAQ and the SPX today as guideposts as the day progresses.  Keep these brackets, or support/resistance clusters, in mind today as the day progresses to measure any progress made by the buyers and sellers.
I have also highlighted a few scenarios for the NASDAQ using the 24 hour market profile chart: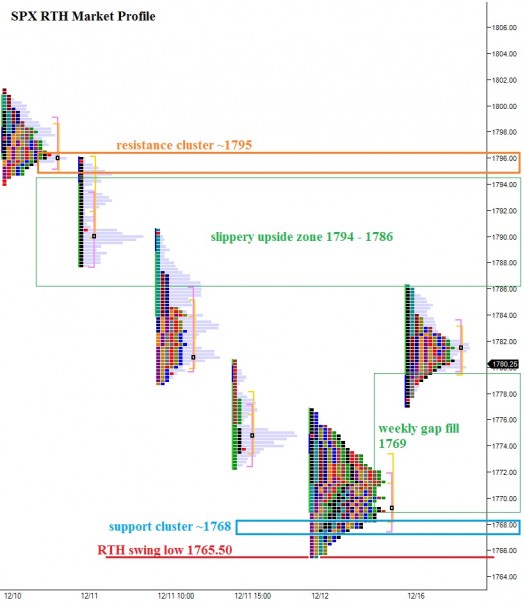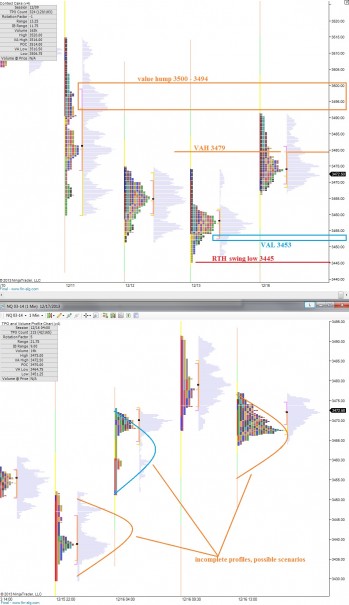 Comments »