We've been strong the /ES futures ever since gapping lower Sunday evening, the main feature of the session being a steady rotation higher off Friday's value area low at 1634.  Should we trade back through Friday's value, trade could quickly press through this level and then set its sights on taking out the single prints left behind of Friday's early drive higher.
This would suggest a major change in character, as it would drastically reduce the confidence of anyone who initiated new longs into Friday's strength.
Up above, we've left behind many reference points including naked volume points of control which make excellent targets.  Nearby we have the 5/29 NVPOC at 1647.75, only one handle above the current overnight high, should we breach the overnight high, a test of this NVPOC is likely.  This same session marks value area high at the 1650 mid-century mark.  So any trade within this value area should be closely observed to see which force (buying/selling) is succeeding in driving vertical development.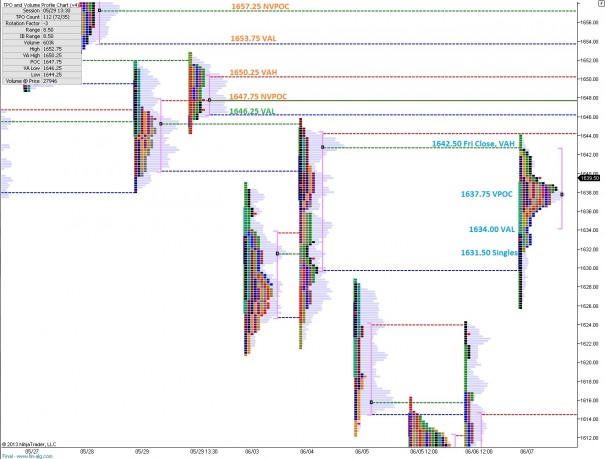 Comments »