Macro currents have put a damper of the price of the Nadaq as we head into the week. The most notable event was a warning out of Europe regarding their economic prospects. For full details from Reuters, you can click here.
In regards to seasonality trends in December, the second week of the month is its weakest. However the month is overall a bull one seasonality-wise. Therefore it makes sense to look for strong charts which pull-back and consolidate as opportunities into year-end.
The overnight profile on the Nasdaq formed a slide zone which can be seen as a series of single prints. This piece of context might result in a fast trade upward at some point today. It also has been lingering down on session lows leading me to expect a retest of the low early on.
The structures forming on the 24-hour profiles [which encompass both regular trading hours and globex after hours] show two 'pinch points' or low volume nodes which seem to define the current short-term balance structure. Please see the below chart for key short-term context: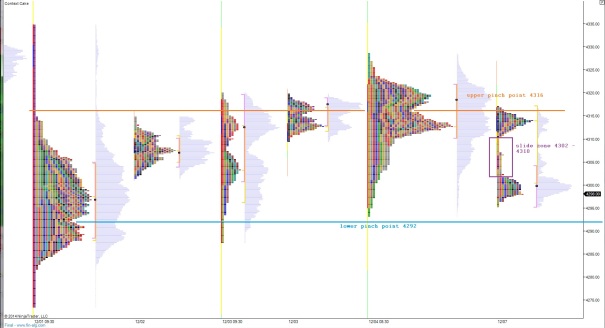 Keep these levels in mind as we progress through the week. A breach of 4292 opens the path to a slide through the Nasdaq volume pocket which spans down to 4242. There are several low volume node reference points between those two levels, however the major traverse would be all the way down to 4242. I have noted this pocket and the relevant potential turning point LVNs on the following volume profile chart: